by Janet Green, Editor, Biker Chick News
copyright 2006

If you're under 5-foot-3 and shopping for a bike, you'll be pleasantly surprised at how many bikes really do fit you. And chances are, one of those bikes is going to reach out and knock you over the head with its styling, its "cool factor," and its general overall suitability. But, just in case the bike that speaks to you the loudest doesn't fit you perfectly the way it sits on the salesroom floor, there are a few simple modifications ("mods") you can keep in mind that just might solve one of two key height-related problems.
Problem 1: You can't "flat-foot" the bike.
In order to have the most and best control over the bike at slow or no speed you should be able to sit in the saddle with the bike pulled upright off the kickstand, knees bent, your feet planted flat on the floor. If you're up on the balls of your feet, or worse, tip-toed, you won't have complete control when you roll up to a stop and put your foot down or when you're straddle-walking the bike backwards out of the garage or into a parking spot.
Solution: Lowering the bike.
You can physically lower the bike itself a couple of ways, but they both involve changing the suspension components – namely, the shock absorbers. On most bikes, the shocks are mounted to the frame and to the swingarm. You can purchase a special bracket that will allow you to loosen the mounting bolts, slide the shocks to slide the shock back an inch or so, bringing the frame-with-fender down a bit closer to the tire in the rear, which might be enough to get you flat-footed.
You could also replace the stock shock absorbers with shorter shocks, bringing things down even further. If you go this route, make sure you don't go so short that the tire is likely to rub on the underside of the fender when the shock is compressed (i.e., you hit a bump, or add a passenger or luggage.)
If that's still not enough, you can also purchase a kit that lowers the front of the bike by changing the springs inside the fork tubes. Again, make sure you aren't creating a situation where parts of the bike will rub together that weren't intended to do so. Alternate solutions: You might be able to flat-foot the bike just by changing out the seat. A bike with a wide seat will spread your legs farther apart before they head toward the ground. A narrow-profile seat might give you just enough extra room to get you flat-footed. And, if you're just up on the balls of your feet instead of tip-toe, it's possible you could get by just by purchasing boots with a taller heel and sole.
Problem 2: You can't comfortably reach the handlebars.
Obviously, being able to reach the handgrips is key to comfortably operating and controlling the bike. From a design stand-point, lots of bikes today have "drag bars" – drag-racing style handlebars that come out in a nearly-straight line from the triple tree, extending left and right but not coming back toward you. These bars can force the shorter rider to hunch forward and reach way out to the right and left, putting body weight on your wrists and causing a burning sensation between the shoulder blades after only a short ride. (Kind of like that old ten-speed you used to ride with the curled-under handlebars – which, not coincidentally, was also originally designed for aerodynamic racing.)
Solution: Different handlebars, or pullback risers.
Depending on how far you have to hunch forward, you can try a couple of things here. Pullback risers are little chromey bits you put in between the tree and the bars to bring the bars up and back toward you in inch-increments. Small risers can make a big difference, so ask your dealer to help you determine how much pull-back you need.
You can also try a different handlebar style altogether. Buckhorn bars (and their next-bigger cousin, mini ape-hangers) bring the hand grips back toward you, and put your hands at an angle on the handgrips so your body sits back a bit and your weight rests on your butt and lower back instead of your wrists. Full ape-hangers will likely raise your arms above shoulder-level, which looks "old-school cool" but might make the upper arms ache. Finally, beach bars form a wide curve back toward the rider – like using half a steering wheel from the city bus. These have a distinct look and bring the grips back toward you, with your hands in a straight position similar to the drag bars (but probably with better weight distribution). Of course, if choosing different bars you'll want to consider the design and look of your bike, too. Beach bars might look hot on a wide cruiser, but they'll likely look out of place on a narrower bike.
An important caveat here is that adding risers or changing the bars could also mean you'll need longer or shorter clutch control cables and/or brake lines to accommodate the adjusted distance.
Shorter riders needn't fear the bike-shopping experience. While it's true that making these modifications will change the final price of the bike, it's also true that making a bike fit you perfectly is actually part of the process – and part of the fun!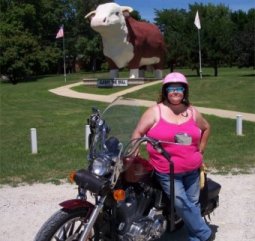 We are trying to put on some miles in preparation for the two-day ride to Sturgis, so today we took off to the west with the added goal of taking some pictures of Albert the Bull. Albert is a 30-foot-tall, 45-ton sculpture of a Hereford bull, erected in Audobon, Iowa in 1964 to acknowledge the impact of the beef/cattle industry on the local economy. He's something of an Iowa landmark and an excellent biker destination. The weather was outstanding for late July – it was 80 degrees and sunny, with bright blue sky and scattered clouds. (The whole week prior, it had been in the upper 90's and humid – so this was a welcome break!)
We took off from home heading west out of Des Moines on old Highway 6, which we took all the way through Adel and Redfield, picking up Highway 44 (the Western Skies Scenic Byway) at Panora. We hit some road construction  between Redfield and Panora, but I have to say, Redfield has got to be one of Iowa's prettiest small towns and the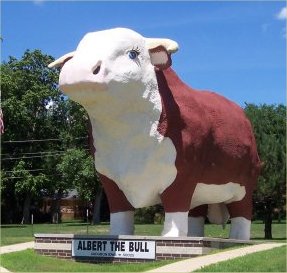 landscape along 44 is just impossibly lovely – lush green fields, immaculate farmyards, century-plus-old homesteads, all perfectly green from recent rains.
We stopped for a water break in Guthrie Center along Highway 44, and a very friendly gal at the gas pumps asked us where we were headed. When we said we were going to take pictures with Albert the Bull, she told us that her dad had been one of the men who had done the original plaster work (actually concrete troweling) on the sculpture – so Albert was a special point of pride for her, and she still lived in Audobon.
We finished up with Highway 44 at Hamlin, then turned North where we found Albert just four miles up the road in the middle of Audobon City Park. You can't help but smile when he comes into view from the road, and of course there's a little information kiosk where you can learn all about how and when he was made. (Here is more info about Albert online!) The park is lovely, and includes a well-maintained campground and playground.
After snapping several pictures, including one of Albert's rather impressive testicles, we headed on into Audobon proper where we had a late lunch at the Chatterbox Café. This little spot on the west side of Division Street was just what we were looking for – a mom 'n pop place to eat and visit. The food was very good, the service was especially friendly, and we had a leisurely meal before heading back for home.
Because of the rather iffy stretch of road construction we'd encountered between Redfield and Panora, we decided to take an alternate route home so we headed south out of Audobon on Highway 71, down to 83 and then east to Anita. Stopped to top off gas, and headed up to I-80 east back to Des Moines. This was about a 70-mile stretch of one of the nation's busiest Interstates, but all went well. (We will be taking this same Interstate out of Des Moines as we head to Sturgis.)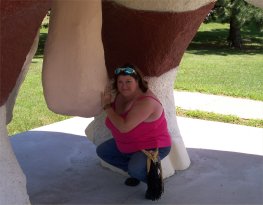 We had left Des Moines around 11:30 a.m., and got home just about 5:45 p.m. It was a perfect day riding – good weather, good friends, no mishaps – and a photo op with a giant concrete bull!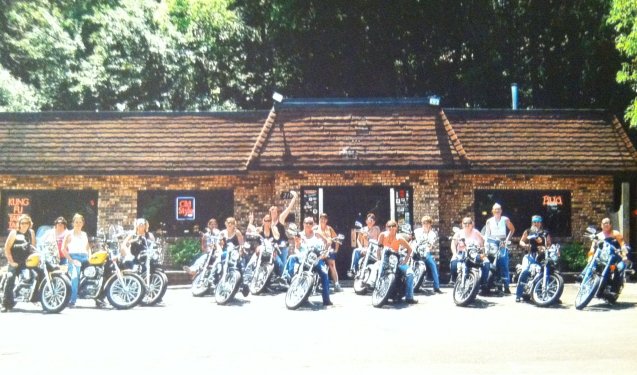 I had a truly awesome day riding, Saturday July 15 – possibly the best day ever for me on the bike.
Last Wednesday night at our local HOG chapter meeting, I noticed a flyer on the bulletin board that just said, "All Women's Ride" – gave a starting time and place, and a couple phone numbers to call for info. This was just the kind of thing I had wanted to do last year, but never got around to doing it – organizing a women's ride. So I decided I would participate, although I was a little nervous about joining a group I'd never met before.
I called two of my girlfriends, Susan (Coyote) and Shirley, to let them know about it and that I was going, and they both expressed interest. We rode in separately to the starting point and we were all warmly greeted by the gals who had already gathered. I was afraid it was going to be a group of women who already knew each other, and that I would feel like an outsider… but I'm glad to report that wasn't the case. The two organizers knew each other, and maybe two of the other women thre, but the rest were like me – just checking it out because they'd read the flyer.
My first notion that it was going to be a "sisterhood" kind of day was when our organizer, Theresa, said she wanted to take a group picture so we need to pull the bikes in closer together in front of the building. Most of us had given ourselves a plenty-wide berth to get turned around in the parking lot, so there was lots of room between bikes, and they were spread out too wide to get them allinto the picture. So, each person would in turn get on her bike and move it closer to the center of the group, and a couple other gals would step in andhelp push it backwards up the little incline. Once parked, she'd get off her bike and go help someone else get situated – it took only about five minutes to organize 20 bikes into a nice group photo.
The plan was to just ride a hundred-mile loop, making a few bar stops along the way. It was extremely hot, upper 90's, with clear blue skies but semi-hazy with the heat. Our first leg was about 50 miles. I'll admit it was pretty damn cool to be riding in that column – we got into staggered formation like it was a given, used hand signals when needed to keep the group apprised of road hazards and upcoming turns, and generally just rode together like we'd been doing it for years.
The firststop was a small-town bar where a few locals were spending their Saturday afternoon… the bartender was good to us, understanding when we just ordered water (and happily accepting our generous tips!) and letting us take over the place for a half-hour or so. Another sign of instant sisterhood occurred here. My friend Shirley, who debated not coming because she is sometimes prone to heat exhaustion, was overcome by the heat shortly after we got insidethe bar. She kind of collapsed onto the cool cement floor, where I and a few of the other riders provided damp towels and encouragement. Theresa, who had been riding two-up with a girlfriend from Florida, told me that her friend was a licensed rider and would be happy to ride Shirley's bike for her ifneed be, meaning Shirley could have her spot on the back of T's bike. I just thought this – and all the concern theyshowed for her – was incredibly kind, given that we'd all just met an hour ago! After fifteen minutes or so she was feeling (and looking) much better, and in another fifteen she insisted she wasready to go on. In all the stop lasted about 40 minutes.
Refreshed with water and sport-drinks, we were then off again to the next stop, and then the next and finally the last. Short stops just long enough to drink a bottled water then back on the bikes. At the last stop, T had arranged for her mother and sister to bring homemade enchiladas which we all enjoyed tremendously.
It was truly a day of the sort of "instant bonding" one could only hope for – a group of very different women from all walks of life, who all shared a passion to ride, just out enjoying the Iowa byways and riding as a group like we'd been doing it forever. I know we were quite the sight to see, a column of bikes all ridden by women – had I been passing our group in a car I would have certainly been astounded… "Hey lookit all the bikes – hey, they're ALL WOMEN!" And frankly, that made me feel just a little bit special!
Sometimes, shit happens that just leaves you shaking your head. An Iowa Appeals court declined to overturn an OWI conviction this week for an individual in Black Hawk County who, in 2003, crashed his motorcycle into a semi-truck causing injuries to his passenger. He was found to have a blood alcohol level of .14 at the scene of the accident, but he pled not-guilty on the grounds that he had only begun to drink after the accident, while sitting on the curb apparently waiting for help to arrive. He noted in his testimony that he kept a bottle of vodka strapped with bungee cords to his fender for just such an emergency.
Thinking that this story qualified for "news of the weird," I mentioned it to my boss whose husband is a county attorney. She assured me this strategy was nothing new. "Marty had a case where a guy was found drunk at the scene with his bike in a ditch, but insisted he'd only started drinking while waiting for a ride home," she reported, noting that cops actually found him first. Ultimately the charges were dropped because there was no evidence to suggest he'd been drunk while on the bike. All the beer cans were there at the scene with him, and the officer had not thought to check the bike's engine to see if it was warm. Without concrete evidence, he was released.
Of course, the lesson we can all learn from this is that if you're going to drink on a bike, it's best to take the containers with you in case you need to stage an alibi later. But there's an additional, more important lesson here, and that is that bungee cords are an effective way to secure a bottle of vodka to a motorcycle fender. (I mean, just how long did that guy ride around like that, waiting for an accident to happen so he could take a nip?)