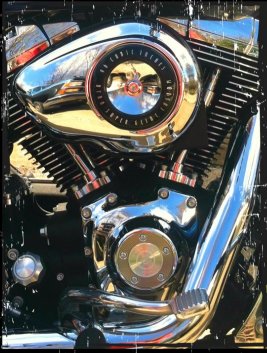 What a crazy Spring! We had a very mild winter here in Iowa, with very little snow and unseasonably warm temps throughout the season. Now in April, though, things have cooled off and I suppose with temps in the 50's and frequent rain we are back to what's normal for this time of year. This has been frustrating – it was great to take a few short jaunts back in March, but these days it seems the weather is not really cooperating. We did take a nice scenic loop down to Winterset and back a few weeks ago, and attended the Christian Motorcycle Association chili feed up at Big Barn is mid-April. But we did not ride up for the bike blessing that accompanied the chili feed. We will have to try again to get blessed on May 12, down at Route 65 HD in Indianola.
Also, the first Indianola Bike Night has come and gone – it didn't get canceled, but we didn't attend due to the cool temperatures. (If anyone ever calls me a wimp over these decisions, I always respond with: "Hey, I rode to Sturgis and back on an 883 Sportster, so… ha!") Attendance was light, I'm told, but no less enthusiastic.
All this falls into the category of "just as well," anyway, because we are in the midst of "Senior Year" here in our household and our non-riding life is quite busy right now. Yes, my beautiful daughter is about to graduate high school, so it's going to be a tearful (and joyful) six months as she passes this milestone and heads off to college.
Finally, a couple quick shout-outs to my gal pals… Shirley – welcome home! Shirley and Garry are back from wintering in Texas, though I'm not sure we didn't have nearly-comparable weather here this year. And Janet – congratulations! Janet successfully completed her 4th Dan test in TaeKwonDo, following a rigorous training period to which her commitment was just as impressive as her outstanding performance in the test itself.
This article is adapted from a news release I received this week from the Iowa Grand Motorcycle Rally, to be held July 25-28 at the Iowa Speedway in Newton. I've done a little editing, but even the full version did not include the full slate of activities that will take place at the rally. See the end of this article for links to the Rally website and supporting pages.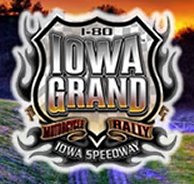 NEWTON, IA – The Iowa Grand Motorcycle Rally at the Iowa Speedway July 25 – 28th has announced headlining acts and the substantial support of both state and county wide officials.
Kicking off Wednesday night are Black Oak Arkansas and Head East, with Lynard Skynard tribute band Edge of Forever opening. Pyrotechnics '80s sensation Hairball lights up the rally on Thursday, and country star Joe Diffie and rock band Rev Theory make for a high octane Friday. Blue Oyster Cult and Eddie Money tip the scales of awesome nostalgia rock for Saturday. Comedian Gallagher was to perform but due to health reasons was forced to cancel his appearance and the rally production team wishes the legend a speedy recovery.
Daily doses of super charged Sturgis and Daytona bands include Jasmine Cain, Ryan Rolando and Farrell Webber Band. Celebrity meet and greets include FX Networks "Sons of Anarchy" stars Katey Sagal ("Gemma") and Charlie Hunnam ("Jax"),  along with The History Channel's "American Pickers" star, Danielle Colby Cushman. Hosted by Jay Allen, Iowa Grand events including tribute rides, bike rodeo, swap meet, sportbike track days, vintage and custom bike shows and much more can be found at iowagrandrally.com.
The significant planning and hard work of the Iowa Grand Motorcycle Rally team has been impressive to the community at large. Governor Terry Branstad expressed the state's support of the rally by signing new legislation which allows the sale of new and used motorcycles at events off dealer property."
Big Barn Harley-Davidson of Des Moines is the official Harley-Davidson dealership of the rally. Customers will be able to see "…new and used Harley-Davidson motorcycles, and take demo rides on new bikes through the rolling hills surrounding Newton," said Big Barn co-owner Dan Moeller.  Big Barn is also providing a 2012 Harley-Davidson motorcycle to be raffled off for charity.
The City of Newton is creating a weekly bike night called Thunder Nights during the summer months to support the Inaugural Iowa Grand Motorcycle Rally. "Our community is really looking forward to all the bikes and people coming to Newton for the first ever Iowa Grand Motorcycle Rally," said Newton Mayor Chaz Allen. "(And), several members of our community have banded together to create Thunder Nights in Newton. The big rally at the speedway in July and Thunder Nights throughout the summer will create a lot of excitement in Newton."
The City of Newton committee is also planning a welcome pig roast to all rally attendees which will be held in the city square on Thursday, July 26th.
Go to www.iowagrandrally.com and www.facebook.com/iowagrandmotorcyclerally for more information and to buy tickets on sale now! Early bird special pricing: $75 for 4-day pass includes free tent camping. Offer ends May 31st. Self-contained RV camping is an additional $50. Day passes are also available. Call 866-787-8946 for complete information.
The American Diabetes Association has decided not to promote Rip's BAD Ride Iowa in 2012, according to the event's Facebook page. Without promotion and support from ADA, this means the event will not be held in 2012. Event organizers noted that the Facebook page will remain open so participants can continue to enjoy the photos and videos that have been posted there, and to help promote any events in Iowa that benefit the ADA of Iowa. Rip's BAD Ride Iowa was held for four years beginning in 2008.