We took a 60-mile ride on Sunday from Des Moines down to Carlisle, over to Martensdale and then back up to Des Moines. It was chilly, but it was so great to get out and ride that we didn't really notice til the very end. Well, most of us didn't.
Six of us – Steve, Kristin, Hollie, Howard, Cassie and myself – left Des Moines around 2 p.m. My car had told me it was 53 degrees at 1 p.m., so we figured it might hit 55 even though it was overcast and clammy.
We rode down to Carlisle where we collected Garry and Shirley, then the 8 of us took off down Highway 5 to County Road S23, south down S23 to Highway 92, west on 92 to Martensdale at Highway 28, then north on 28 back into Norwalk and then Des Moines. This is a really nice loop, one we have done a few times before as an alternative to riding "up around the lake." Our only stop, once we met up with Garry and Shirley in Carlisle, was a Casey's in Norwalk. By the time we got there, everyone was noticing the chill a little – especially Shirley, who wasn't wearing gloves. (Okay, it's really not enough to say she was "noticing the chill a little." Her comment was that she was glad she didn't have to do any sudden maneuvering of the clutch or brake levers, because her poor hands couldn't have managed it. We need to get that girl some proper handwear!)
We milled around Casey's for a half hour or so, got warmed up, and then headed home. By the time we pulled into our driveway, we were all feeling the cold a bit. I mentioned to all that it felt like the temperature had dropped five degrees in the time since we'd left Norwalk. As it turns out, I was pretty much right: I looked up the 24-hour temperature history on Accuweather.com and it showed that at 2 p.m. the temp was 50. That means it had already dropped 3 degrees from the day's high of 53 before we even left home! And at 5 p.m., when we pulled into our driveway, it said 45 degrees! Now eight degrees might not feel like a significant difference when you're talking sub-zero. (Does minus-28 really feel all that much different from minus-20?) But when you're talking 53 vs. 45, it's HUGE – especially when it's cloudy.
Despite the chill, it was great to finally get out and ride. WOOHOO!! Riding season is here!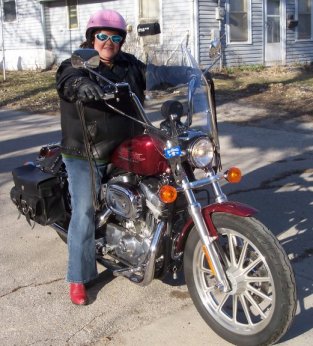 Took me a few days to get it posted to the blog, but I did get to go on a very short ride on… hmmm, think it was Monday of this past week. Just a couple miles, but had to get out as it was really nice out and I hadn't had a chance to test out my new pullback risers that we added to the ape hanger handlebars a few weeks ago. One of these days soon I'll pull the bike out into the driveway and take pictures of all the goodies that got added this winter – the bike doesn't look drastically different from 10 feet away, but the details are sure looking good!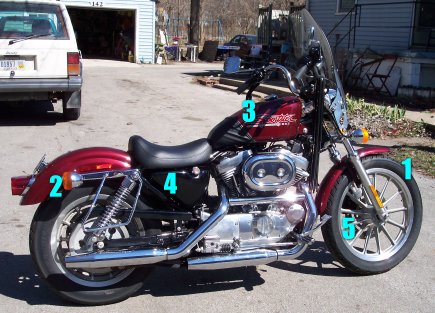 WOW – we had a terrific membership meeting with the Des Moines HOG chapter last night, in which over 100 people were in attendance including 24 new members. (Special welcome to Hollie, Marla, Denise, and Susan/Coyote and her hubby Paul!) That's twice as many new members as the past two months. (IowaHarleyGirl, where are you?? )
One of the items on last night's agenda was a report from the Big Barn Harley-Davidson service manager, who gave us a short list of the five most important items to check on the bike as we get ready to ride this Spring. Certainly this info is helpful to all riders, so I thought I'd share it here with thanks and credit to Tom Reed for sharing his expertise!
Check these items before your first ride:
1. Tire pressure. The single most common reason for tire failure, says Tom, is inadequate tire pressure.
2. Indicator lights. Make sure your signal, brake and headlights are functioning, and replace non-functioning bulbs.
3. Gasoline. "Old gas" is bad, m'kay? Especially for carbureted bikes. What's old? Tom says gas starts to deteriorate in the tank within three weeks. If your gas has been in the tank since last fall, time to siphon it out and replace it.
4. Oil. Start and run the bike for a few minutes, then check the smell of your bike's oil. If it smells like gasoline, you've got fuel leaking into the oil tank and the oil should be replaced. Tom says an oil change is likely a good idea anyway – your owner's manual probably recommends an oil change every 3000 miles OR every 3 months. That includes time the bike's been sitting in the garage, waiting for good weather.
5. Brake pads. Look for wear and replace if needed. Some groaning/squeaking of brakes is normal on the first ride of the season, but the noise shouldn't last. If it does, time for a service call.
We took advantage of the 60-degree temperature on Sunday as best we could… putting all the chromey bits on the Picky Bitch that I'd gotten for Christmas! Here's what we added:
Belt guard cover
Front axle nut covers
Rear master-cylinder cover
Pullback risers
A note on the pullback risers… last fall, my wonderful husband purchased and installed Ape Hanger handlebars for me (you might remember the story about how I didn't seem to notice!). I noticed after a little riding that my shoulder blades were kind of aching, so we talked about pullback risers. The bike is looking awesome with the risers on there, so I'm really hoping those solved the shoulder-blade problem. Guess we'll see… in a MONTH or more! (What IS IT with this @#$ winter??)
… but  we couldn't ride… the first picture below shows what's at the end of our driveway – an 8-foot wide swath of ice! This end of our yard and driveway are not in the sun, so they won't be clear until probably late April! (Also, we are getting another winter storm tonight so the whole @#$ yard will be back to ice by tomorrow morning!)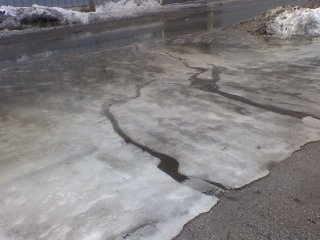 Then, this picture shows the road on the other side of our house. It's unpaved, and the picture doesn't even begin to tell the story of how rutted and sloppy it is. So, while we did see a few bikes while we were out and about today, we certainly didn't get to ride.