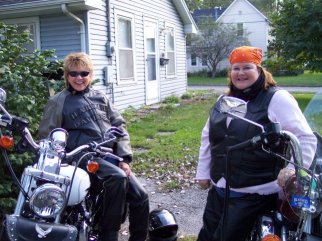 It was a beautiful weekend here in Iowa and here are two biker chicks who took full advantage of it!  After our successful trip to Albert Lea last summer, my friend Susan and I decided we needed to plan another overnight trip for this year. We had originally planned to visit Galena, IL, but the day before the trip we checked the weather and learned that "they" (whoever "they" are) were predicting rain for that time period in that locale so we switched gears and decided that it looked like it was going to be warmest over in northwest Iowa. So we decided we'd ride the Loess Hills Scenic Byway from about the middle of the western border of the state up to Sioux City, and then spend  the night in Le Mars.
We had both taken Friday off from work so we met at my house and left about 9:30 a.m. We went west out of Des Moines on Highway 6 then picked up Highway 44 at Panora. From here, 44 is designated in Iowa as the Western Skies Scenic Byway. Now Susan and I are not "let's get there" kind of people. We are more "let's take our time getting there" people. So to say that we stopped frequently would probably be an understatement, but generally speaking, we stopped frequently. We passed through several lovely small towns, including Adel, Redfield, Guthrie Center, and Harlan, and finally picked up the Loess Hills road in Logan.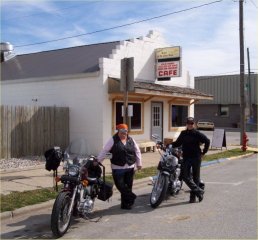 The Loess Hills region of Iowa is beautiful, and fall colors have not quite peaked here so everything is just barely turning red and gold. I was a little disappointed that we didn't see anything terrain-wise that really surprised me… but, I think if we had explored the State Park or the western side of the hills, we would have been better able to appreciate what makes this region so unique. 
We rode north keeping to the designated scenic highway, which zig zags its way through the hills. We stopped for lunch at the Old Home Fill'er Up and Keep On Truckin' Cafe in Pisgah (immortalized by C.W. McCall in the Old Home Bread commercials) and then went on to Sioux City. We took Highway 75 north through Sioux City to the Harley dealership, where we stopped to shop and make phone calls home, then continued on up 75 to Le Mars at about 6 p.m.
We checked into a motel and walked next door to Uncle Albert's Pub & Grille, where we had a very good dinner and a couple drinks. We got a good laugh out of the fact that it had taken us 8 hours to travel 250 miles!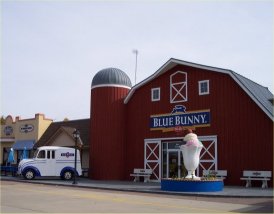 Slept in Saturday morning and after getting the bikes packed we went to see the Wells Blue Bunny Visitors Center. Le Mars bills itself as "The Ice Cream Capital of the World," because the Wells Blue Bunny company produces more ice cream in their Le Mars dairy than any other company in any other location in the world. They've built a very nice museum which tells the history of the company and the history of ice cream, and includes a 3/4-scale model of part of their production line so you can see how the products move around on the line. The facility also includes a full-service ice cream parlor, where we learned that ice cream tastes even better when it's fresh – meaning, you're eating it right next door to where it was made and it hasn't been frozen, thawed, re-frozen/etc. at the whim of your freezer's defrost cycle.
We spent about an hour at the museum and then took off to the east on Highway 3, where we passed through more lovely small towns like Cherokee, Ida Grove, and Carroll. (Note to self: need to return to Ida Grove with the family to visit the COOL Pizza Hut with outdoor patio that overlooks a lake!) We picked up Highway 44 again at Panora, which took us straight back into the Des Moines area in our northern suburb of Johnston. In all, we traveled 460 trouble-free miles with beautiful weather – we are going to have to come up with a name for these little overnighters!
I am a freaking IDIOT!!! I had today (Sept. 8) off as a vacation day from work, and after some errands and grocery shopping, DH and I went for a short ride around town. Stopped at the dealership, "where everybody knows my name…" LOL… then came home. Rolled into the garage, shut off ignition, turn bars to the left and proceed to park bike, except FORGOT TO PUT THE @#$ KICKSTAND DOWN!! I laid her down as easy as I could, but when she went over, she went completely on her side as I have no engine guards. DH parked and came over to help lift… Busted tail light lense and partially crushed tail light housing, and I think I also broke the bolt stem that holds my seat in place because the front end of it wiggles now. That fucker's not even PAID FOR yet, being as it is on the "priceless" installment plan. We'll remove the seat tomorrow to assess whether it can be fixed. No other damage, thank God, but CRIPES!! What the HELL was I thinking? So it was a perfect, beautiful blue-sky day, perfect for a ride… and I ruined it! (In fact, how's this for come-uppance: I was riding along, looking sharp and feeling great, and thinking about how I'd been wanting to maybe trade the ol' Sporty in for a Lowrider. But, because of our recent discovery of the need for some orthodontia in our family, the new-bike project had been put on hold. I was thinking, "I shouldn't get a new bike anyway – I would probably drop it. I started out with a used bike, and never dropped it. Then the one time I did buy a brand-new bike – my Honda – I dropped it twice. Now I have a used bike again – the Sporty – and I've never dropped it." So that's what I get for taking pride in the fact that I'd never dropped the Picky Bitch! Apparently, she's picky too about having her kickstand down as a condition for remaining upright!) *sigh*
Damage Control Update – the only damage was to the left rear turn signal lens and housing. The housing was slightly bent inward, which busted the lens. The filament inside the bulb was also broken off. The seat, miraculously, was not broken – just shifted which made it feel loose (I forgot that it's not mounted with a bolt on the front, it's mounted with a tab-and-slot system), so we tightened it back down and all is well. Hubby gently beat the signal housing back into shape with a ball peen hammer – if this had been a metric bike the housing would have been made of plastic and would have been shattered, so I'd have had to replace it. We had a bulb on hand, and I spent $5 on a new lens up at the dealership. Total cost to fix, $5 plus whatever we paid for that bulb awhile back. The housing still has a small scuff-mark, as does the butt-end of the clutch lever up on the handlebar, but that's it. Did I mention how lucky I feel?
by Janet Green, Editor, Biker Chick News
copyright 2006
The more you ride, the more you're going to notice "little things" that need to be addressed with further modifications to the bike. Fortunately, there are "after market" parts for every problem you'll experience. Here are a few of the more common post-purchase "mods" you might want to make!
Problem: You feel like those cows in the movie "Twister."
When you're ready to hit the highway, the first thing you'll notice is how windy it is out there and how much you feel like you and your bike are being tossed around, even on a day when the treetops aren't swaying in the breeze. That's aerodynamics at work: you on your motorcycle are meeting air as you travel, and the fact that you're basically a squared off, upright object is causing the air to hit you head-on in a most un-dynamic way. The need for protective eyewear quickly becomes apparent, and if you're wearing a helmet you'll notice that the force – even on a calm day – can push your whole head backwards as the air tries to make a kite out of your visor.
Solution: Add a windshield!
Adding a windshield to your bike makes the kind of night-and-day difference in highway riding that makes you smack your own forehead and ask yourself why you didn't do it sooner. The main thing the windshield does is deflect the frictional force that hits your body-and-bike "object" as it moves down the road. It doesn't help you much in the case of a strong cross-wind, but it definitely protects your head and body from taking the brunt of the air's force as you travel forward. It's important to note that it doesn't take a big, wide windshield to reduce this force. Even a small "sport" windshield will dramatically change the way air flows over your bike, reducing the air's impact on you. Don't feel like you have to settle for a big police cruiser-style 'shield if that's not the look you want.
Problem: Your bike emits a low, efficient "whirring" sound instead of a satisfying rumble
Solution: Pipe up!
Okay, we all know that the main reason to change those exhaust pipes is simple: we love the rumble, and we want to make some noise, good citizenship be damned! And, you can make a pretty good argument for the notion that "loud pipes save lives." But there's another reason to change out the pipes: different exhaust changes the way air flows through the bike's engine, which can give you more horsepower at higher RPM's. If you change your exhaust, you'll probably also need to re-jet the carbureator, to account for the easier-breathing engine. One down-side here is that you could lose pep on the bottom end: things may feel a little sluggish when you pull away from that intersection. So, while you might find that shiney new (rumbly) pipes will increase your hp and your overall "wow" factor, they also might change the way you feed the throttle when you take off from a stop.
Problem: your wrists ache from gripping the bars and keeping the throttle open.
Solution: Get a Grip – A hand-grip, that is!
The degree to which your hands, wrists and forearms ache after a ride can be addressed in a number of ways, not the least of which is to simply relax a little… if you're a new rider, you're probably using the "death grip" on those handlebars. This will quickly make your forearms ache, and simply relaxing your grip a bit will make a noticeable difference.
Your bike's handlebars and handgrips might also be causing you problems. Particularly with drag bars, which put your hands in a parallel-to-the-ground position when riding, comfortable handgrips might be an easy change that will make a big difference. If you have drag bars and find your hands aching, try putting on a set of comfort grips to provide some padding as your weight comes down on your hands and wrists. And, don't forget the wrist-rest! You can attach a simple little device to the right hand grip that allows you press down with the heel of your hand and open your fingers, keeping the throttle open while you relax your grip. This is, frankly, a life-saver on longer trips.
Problem: You have nowhere to put your stuff.
Solution: Bag it.
In the male world, it's probably bikers who can most identify with women who say they need a place to put their stuff. Those bar-hopping chopper guys aside, bikers who travel on their bikes appreciate their saddlebags, t-bags, and little pouches and pockets of every size and purpose. Fortunately, solutions to this problem are plentiful. Options range from large full saddlebags that mount on the back of the bike, collapsible rolling suitcases that attach to the sissy bar, to pouches that fit on the inside of your windshield or attach to your own belt loops for quick access to frequently-needed items.
Problem: Your bike seems dull, lifeless, utterly without bling
Solution: Go shopping!
This is why motorcycles are the perfect hobby for women who love to shop: there's always some bit of chrome you can add to brighten things up or some accessory you can add to make things more fun or more convenient. The possibilities here are endless, from a chrome choke knob cover or a fully-chromed engine and transmission case for maximum shine, to leather or vinyl saddlebags or other totes for maximum storage. And here's even MORE good news: you can pick a theme, and choose bits that dress up the bike in a highly personalized style. Trying to scare the kiddies? Try the skull theme! Want to create at least the illusion of speed, even while you're still learning? Maybe flames are for you! Finally, don't ignore yourself: that awesomely courageous, "I am Woman Hear Me Roar" rider – you deserve to outfit yourself in the best protective gear, the coolest biker-babe t-shirts, and anything else that tells the world "I ride and I love it!"
A little farther down this page are my ruminations on a topic that seems to come up fairly often in one of my favorite online motorcycle discussion forums – the question of why one rides a Harley instead of any other brand. It's interesting to me that the question is – at least as far as I can remember – always posed by a metric rider. It's never a Harley person asking, "Why do you ride a Yamaha?" I will admit to getting a little annoyed at the fact that this keeps coming up – I think the people asking are usually sincere in their intentions to learn something, but the way the discussion goes usually ends up with at least a little bit of Harley bashing. The angle of the bash is usually monetary – the folks who own metrics claim that there's no reason to pay extra for a Harley, when metrics are "just as much bike for less money," as if that were an objective end-all statement. Whether a Honda is just as much bike as a Harley is, of course, in the eye of the beholder.
One of the issues that also comes up during these discussions is the notion of the "Harley Mystique." New riders have had other people tell them that "there's a certain mystique" about owning a Harley, but they can't get any more specific than that. The phrase "If I have to explain it, you wouldn't understand" gets thrown around, but personally if someone gave me that line I'd demand something more specific. So in my response to the thread this time around, I took on the task of trying to explain the mystique, at least as I personally translate the notion. I've owned Yamahas, Hondas and Harleys, and my Sportster is my favorite. The "mystique" is actually what I like best about it, and that mystique comes from the history of the company and the way it has evolved as an icon in popular culture. The bike itself may be more expensive, but it is like owning something that has a unique place in history. The metric bikes I've owned were fun, and cheaper, but they did not give *me* that sense of being part of a long tradition. I personally enjoy that feeling, though I know that others feel paying less money or having a bike that's engineered a little differently is more important. Another aspect I enjoy of HD ownership is the strong owners' community that HD has built, both locally and nationally. My experience, both personally and anecdotally, with the metric dealers has been that they just don't do this as well as HD. So, history and community are why I ride a Harley, and I don't mind paying a little more for those things even though they are intangible.
As for the monetary aspect, let's put that to rest. Unless you're paying cash outright, you're financing your purchase. And HD is currently financing Sportsters for as little as $99 a month. Anyone who is arranging their finances to make a bike a priority will find that's about as cheap as it gets, and even HD's smaller 883 engine is bigger and badder than a whole slew of the Hondas, Suzuki's and Yamahas. (There's always the 1200 Sportster, too, for $125 a month, if you must.) So assuming you like the looks and the bike fits you, money shouldn't be the issue. Now granted, that leaves you with lots of other potentially valid reasons for buying a metric, and as long as the bike fits you and you like it, that's great and you should absolutely choose the bike that best communicates the freedom and magic of riding on two wheels. If that's not an HD for you, so be it – but quit harping about the cost, because that argument just doesn't float.
Here's the real bottom line. No one cares what you ride. Buy the bike that fits you and makes you feel great. But don't accuse Harley owners of being the snobs, because in my experience it's been the metric owners who make the snide comments and put people down for the brand they've chosen. Shame on them.