As a follow-up to this week's post about good bikes for beginners, I wanted to point out that I had read recently where someone recommended the automatic-shifting Ridley as a "great first bike."
I respectfully disagree, for the simple reasons that it's expensive and doesn't teach you all the necessary skills.
Sure you don't have to learn to manage the clutch, but what if you decide someday that you want a different bike? You certainly couldn't test-ride anything if you haven't mastered shifting.  And, if you were in a situation where you were needed to ride someone else's bike, you'd be useless. Learning to shift is part of the challenge of learning to ride, and you should tackle the challenge. Besides, I can't imagine shelling out that kind of money, or taking on that kind of loan, for a "first bike."  
Same for custom choppers – choppers are engineered quite differently from, other bikes, including the learner bikes they use in the MSF courses. For one thing, the turning radius is drastically different. Why put unnecessary obstacles in your way when you are still learning how to manage operating the bike, riding defensively, moving through traffic, etc.?  Plus, again, the cost is extraordinary compared to a basic small-cc bike, especially if you don't know whether riding is "for you" just yet.
Of course, once you are riding comfortably you can have any bike you want, and can adjust your riding skills accordingly.
With women now comprising just over 12 percent of the new-bike market, it means that more gals are thinking about learning to ride. (After all, who doesn't dream of being a free-spirited biker chick?) If that's you, or your wife or girlfriend, one of the first questions to come up is most certainly going to be: "What kind of bike is best for learners?" (See my "No B.S. Guide to Learning to Ride" for more common questions.)
While it's true that some women will be comfortable managing a bigger bike right from the start, it's more likely they're facing quite a bit of uncertainty or even fear.
For that reason, I recommend learning to ride on a smaller bike, i.e. a Honda Rebel or Yamaha Virago (125 and 250cc, respectively), preferably used so you don't shell out a lot of money only to find you don't enjoy riding. 
A woman who might be able to readily maneuver more bike at slow speeds, or one who's more confident going into the task of learning, might start out on a 600 Honda VLX or the Yamaha 650 V-Star. These are a little more powerful and you might keep them a few more seasons than the smaller Rebel or Virago. 
All of these are readily available in the used market.
Once you feel comfortable riding, you'll notice that highway speeds feel like "work" on a small (250cc) bike. At that point, you're probably ready to move up to something a little bigger. You can easily sell the learner bike and move up to the Honda Shadows, Yamaha V-Stars, Harley Sportsters, etc. in the 650-883 range. Suzuki also makes comparable bikes in its Boulevard line – I'm not as familiar with them, but the older Suzuki 800 Intruder is also a great "move-up" bike. Eventually you may move up yet again into the largest classes, but I know many women who have ridden comfortably for years on these mid-range machines.
The advantages of this graduated method are several: 
You get used to the manual operation of the bike without feeling like you can't maneuver it easily (such as into and out of parking spaces or through large crowds).
It's easier to pick up a smaller bike via the proper method if you drop it.
And speakng of drops, it's less heart-breaking to drop a small used learner bike (likely to happen when you're a new rider) than it is to drop your ultimate dream bike.
It's much easier to pass the licensing test on a smaller-cc bike.
You probably won't have a financed bike to "get out from under" if you decide you don't want to continue riding.
I've said it often: women learn differently from men – they are more studious and often more cautious. If you want to learn to ride and want to make it as un-intimidating as possible, start small and work your way up to the larger bikes.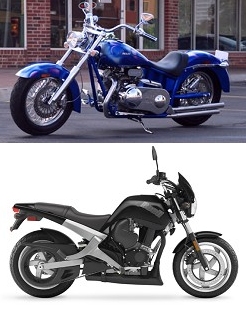 You might remember a couple of years ago I compiled a spreadsheet showing the seat-heights of the lower major-manufacturer cruisers. This was an effort to help identify good bikes for short riders, and it had the added benefit of suggesting some lower-cc bikes for beginning riders.
I've recently come across a couple of sites that provide some excellent, more current information, so thought I'd share the links with you so you can investigate further. Important to note that the bikes on my original list are likely well-represented in the used bike market these days. So if you're looking for a good first bike, or a good used machine, this list will still help you narrow your choices!
Carla King at Motorcycling Misadventures offers her thoughts on the question of "What's a Beginner Bike?" and states in no uncertain terms, "flat-footed, no more than 250 cc's." (My article, "Start Small or Go Ultimate" offers the pluses of starting on a smaller bike vs. larger. I'll be offering something a little more definitive – meaning: opinionated! LOL – next week.)
Being able to "flat-foot" the bike is one of the most important aspects of safe handling. Why? Well for one thing, you want to be able to 'walk' the bike into or out of a parking spot if need be. You can't do that easily if you're on tippy-toes, because you can't get a good footing. And for another, when you roll up to a stop you want to be sure your footing will be solid as you take your feet off the pegs to support the stopped bike.
Women Riders Now has a fairly complete list of (mostly) cruisers with low seat heights, but there are two points of discussion that are missing from the article (mentioned in the comments):
1. There are some beautiful choppers, and many other bikes with forward controls shown that shorter women can easily straddle, but we'd have no hope of ever reaching the foot controls. (Perhaps the Roar WildKaT, with its modular control-positioning, solves this problem?)
2. The seat width often makes these "low" bikes impossible to straddle flat-footed, because your shorter legs have to stretch out and over a wider area.
Finally, Raven at Ravenbladerider covers the sportbike angle with some great sportbikes for shorter women.