Many thanks to Holly N. for providing me with a wonderful multi-part series covering the 2009 Estrogen Ride, and to Vicki D. for taking such great photos!  Sounds like a wonderful time, I'm sorry I missed it this year! If you were there, be sure to add your stories in the comments!

by Holly N.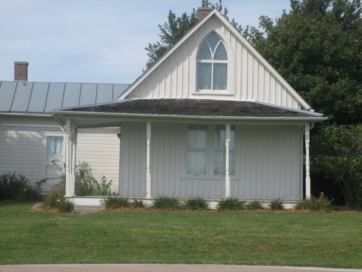 The weather gods were with us again on day 4!  We woke up in Hannibal to sunny skies and a light breeze.  After loading our bikes up we headed to Quincy IL to the H-D dealership so they could take a look at Judy's tire.  We crossed the Mississippi in Hannibal and headed north to Quincy.  Once the at the dealership, they got her bike right into the shop and checked it out.  Luckily they couldn't find anything wrong with the valve stem or anything, cleaned the tire off and it held air fine the rest of the way home.  This also gave us a chance to do some shopping and several made purchases of H-D things they just couldn't live without.
The H-D dealership is on the east side of Quincy so rather than cut through the city to cross back into Iowa, we headed north a little ways and crossed over at Keokuk.  We headed northwest on Hwy 218 to Donnellson where we took Hwy 2 west to Farmington.  This is a very pretty road that takes you through Shimek State Forest.  The original plan was to ride to Bloomfield, IA for lunch but as we came through Farmington, there was a little restaurant, The Bridge Cafe and Supper Club, that I had seen several times on trips but never had a chance to stop at.  So, being the leader I made the executive decision to stop for lunch there!  No one was disappointed!  We were shown to a private room and fed some of the best homecooking we'd ever had.  We highly recommend the sweet potato fries!
After lunch, we stopped in Keosauqua for gas.  This proved to be quite a time as only one gas station in town had high octane gas, and only one pump for it!  So we lined up on both sides of the pump and passed the nozzle back & forth.  Of course, it didn't offer pay at the pump so we'd have shut it off, turn it on and then go inside to pay!  Quite a sight!  At some point, Kathy B. turned on her music and we were all dancing in the parking area of the station.  I'm sure the locals loved us!
As we continued north, in Eldon we stopped at the American Gothic house.  This is the original house that Grant Wood used in his famous American Gothic painting.  They have a nice visitors center and the actual house is there to walk around.  It was fun to see and several gals had no idea it was in Iowa!
Eldon proved to be our last stop (except for a brief stop on an entrance ramp) so we said our goodbyes, more hugs & kisses and promises to go on next year's ride.  We made it through with no mishaps and no dropped bikes!  It's always bittersweet to end a good weekend with friends – so glad we have 2010 to look forward to!
This guest post is by author and photographer Christina Shook, who has just released a photographic essay book called "Chicks on Bikes." The book captures the stories and pictures of women riders from all walks of life, but the essay excerpted here captures the essence of what we all have in common – a sense of sisterhood.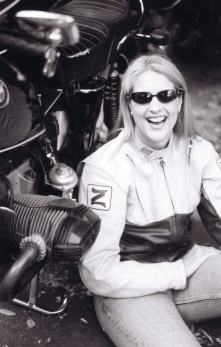 Sisterhood. A community. Of women. Not a sewing circle, not a women's auxiliary club, not a mom's club. There is a community of women bikers. Today women have formed organizations for every interest under the sun, no longer limited to domestic, nurturing or supportive activities. These women have taken up a lifestyle that is still a largely male domain and claimed their space and culture within it.
Few groups have the high-impact visibility of a pack of women riding up on their bikes. Few events have the singular sense of power that wells deep within as dozens of women roar their engines at the beginning of a group girl ride. It is a screamingly , throbbingly, wonderful feeling. It's awe inspiring and fascinating to behold.
There is a sense of non-competition in a group of women, an unspoken sisterhood without the need to prove you're daring. Women ride a little safer, a little smarter, a little kinder. To be on the road simultaneously alone and part of the pack is to have a firm sense of self and belonging. Every decision on the road must consider both self and group. Riding down the road with a mother, a sister or girlfriends combines the sense of the feminine with a sense of power. It spells out strength, pride, power and independence.
There are millions of women on motorcycles, and numbers count. There is strength in numbers. There is a kinship all motorcyclists share born of hardship and joy. Women motorcyclists have existed since the days when women wore dresses and rode side saddle. There are women motorcycle clubs that drink beer, swagger and ogle men. Some ride for causes such as breast cancer or children's health issues. Some are Christian groups that go riding after church on Sundays. there are countless groups that represent every lifestyle imaginable.
They will all tell you it's different from riding with the guys. there is a sense of pride and sisterhood, and this is why they ride with the girls.
To learn more about Christina and her book, visit www.ChicksOnBikes.us. Get your copy by clicking the "Order" tab on her website. You can also read her blog, http://cshook.wordpress.com/ – she just got back from the Women and Motorcycling Conference in Keystone, Colorado – and follow her on Twitter (www.twitter.com/cshookup) for tweets related to photography and motorcycles.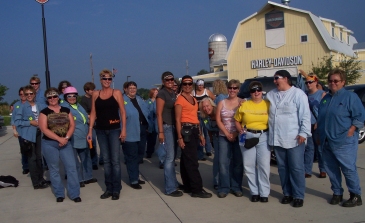 The Harley Davidson company has proclaimed (among just a little bruhaha) May to be Women Riders Month, with a variety of events and celebrations planned to call attention to the number of women riders now on the roads.  As I've pointed out in some of the discussions about the value of a celebratory month, this is HD's way of celebrating and catering to their growing female ridership. While some don't see the need and feel like HD is pandering to them, I say that this kind of attention is good.
For one thing, it raises the visibility of motorcycling in general. As HD spends time and money promoting its products and programs aimed at women riders, it calls attention to the very facts that a). motorcycles exist and share the road; and b). in the seasonal states, it's now motorcycle season so drivers should be on the lookout.
For another thing, it encourages women who aren't yet riders to get out there and follow their dream to learn. If a women wants to get off the passenger seat and take control of her own machine, she should absolutely be encouraged to do so. Maybe seeing more women riders on the road will convince others that it's time to ride.
Finally, this celebration should not be and does not need to be limited to the Harley Davidson company. With HD having taken the step of publicly acknowledging and celebrating their share of the women's market, other groups should follow and grow Women Riders Month to include safety and educational components, local riding celebrations for all makes and models, and more. Just because HD said it's Women Riders Month, doesn't mean they're the only ones who should be celebrating. While HD may dominate the celebration this year, it would be great to see other companies and organizations add more components to it for next year and beyond.
Okay gals, enough talk – it's a bright blue sky, and reaching for almost 70 degrees today. It's also Demo Days at Big Barn Harley Davidson. Think I'll go for a ride. How about you??

Motoress.com proclaims May 1, 2009 "International Female Ride Day" – if you're a woman who rides, I encourage you to get out there and make a spectacle of yourself (um… in a good way, ok?)!
Image courtesy www.motoress.com.
As a follow-up to this week's post about good bikes for beginners, I wanted to point out that I had read recently where someone recommended the automatic-shifting Ridley as a "great first bike."
I respectfully disagree, for the simple reasons that it's expensive and doesn't teach you all the necessary skills.
Sure you don't have to learn to manage the clutch, but what if you decide someday that you want a different bike? You certainly couldn't test-ride anything if you haven't mastered shifting.  And, if you were in a situation where you were needed to ride someone else's bike, you'd be useless. Learning to shift is part of the challenge of learning to ride, and you should tackle the challenge. Besides, I can't imagine shelling out that kind of money, or taking on that kind of loan, for a "first bike."  
Same for custom choppers – choppers are engineered quite differently from, other bikes, including the learner bikes they use in the MSF courses. For one thing, the turning radius is drastically different. Why put unnecessary obstacles in your way when you are still learning how to manage operating the bike, riding defensively, moving through traffic, etc.?  Plus, again, the cost is extraordinary compared to a basic small-cc bike, especially if you don't know whether riding is "for you" just yet.
Of course, once you are riding comfortably you can have any bike you want, and can adjust your riding skills accordingly.
With women now comprising just over 12 percent of the new-bike market, it means that more gals are thinking about learning to ride. (After all, who doesn't dream of being a free-spirited biker chick?) If that's you, or your wife or girlfriend, one of the first questions to come up is most certainly going to be: "What kind of bike is best for learners?" (See my "No B.S. Guide to Learning to Ride" for more common questions.)
While it's true that some women will be comfortable managing a bigger bike right from the start, it's more likely they're facing quite a bit of uncertainty or even fear.
For that reason, I recommend learning to ride on a smaller bike, i.e. a Honda Rebel or Yamaha Virago (125 and 250cc, respectively), preferably used so you don't shell out a lot of money only to find you don't enjoy riding. 
A woman who might be able to readily maneuver more bike at slow speeds, or one who's more confident going into the task of learning, might start out on a 600 Honda VLX or the Yamaha 650 V-Star. These are a little more powerful and you might keep them a few more seasons than the smaller Rebel or Virago. 
All of these are readily available in the used market.
Once you feel comfortable riding, you'll notice that highway speeds feel like "work" on a small (250cc) bike. At that point, you're probably ready to move up to something a little bigger. You can easily sell the learner bike and move up to the Honda Shadows, Yamaha V-Stars, Harley Sportsters, etc. in the 650-883 range. Suzuki also makes comparable bikes in its Boulevard line – I'm not as familiar with them, but the older Suzuki 800 Intruder is also a great "move-up" bike. Eventually you may move up yet again into the largest classes, but I know many women who have ridden comfortably for years on these mid-range machines.
The advantages of this graduated method are several: 
You get used to the manual operation of the bike without feeling like you can't maneuver it easily (such as into and out of parking spaces or through large crowds).
It's easier to pick up a smaller bike via the proper method if you drop it.
And speakng of drops, it's less heart-breaking to drop a small used learner bike (likely to happen when you're a new rider) than it is to drop your ultimate dream bike.
It's much easier to pass the licensing test on a smaller-cc bike.
You probably won't have a financed bike to "get out from under" if you decide you don't want to continue riding.
I've said it often: women learn differently from men – they are more studious and often more cautious. If you want to learn to ride and want to make it as un-intimidating as possible, start small and work your way up to the larger bikes.