Readers of this blog know I'm all about V-Twin cruisers… particularly Harleys and my Picky Bitch of a Sportster… but, I can appreciate any kind of bike for the freedom it affords the rider and the sense of camaraderie it inspires. So I'm happy to be included on a list of "Top 100 Motorcyle Blogs" over on the Honda Motorcycles Blog, where the CB750 Nighthawk and the CBF600s are celebrated. The list covers lots of kinds of bikes – not just cruisers, and not just sportbikes – and it makes for some really good reading!
Hey cool development in the Des Moines HOG Chapter, I'm now the official New Member Ambassador! Yep, I've joined the officer's ranks of our chapter, which is based at Big Barn HD. My job for 2008 will be to sign in new members at each meeting, then introduce them to the rest of the group. I think it sounds like fun, and I'm thrilled to be on board!
If you're a Harley Davidson enthusiast like me, you might enjoy this opportunity to support the new Harley museum opening in 2008 in Milwaukee.

Hat-tip to Rippin-Kitten for the link!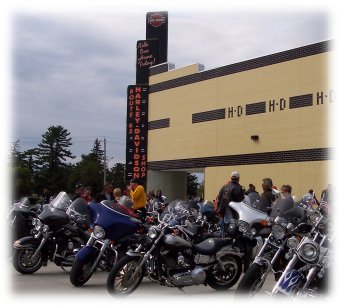 We took a nice ride with our neighbors, Kristin & Hollie, down to Route 65 Harley Davidson on Saturday for their 2008 Model Year Open House – we'd never been there before, and it's a really neat building! It looks like an old Art Deco-style building from the 30's that got turned into a hot rod shop in the 50's… except that the building is brand new. Tons of space inside… they need a few more bikes, but the '08's are not all in yet so I'm sure it will fill up in the next few weeks. Had a good lunch courtesy of the dealership, and they had live music as well. Weather was a little chilly but we had plenty of gear (except gloves! yikes!) so it was a nice way to spend the afternoon. Here's a link to the Webshots album with our photos!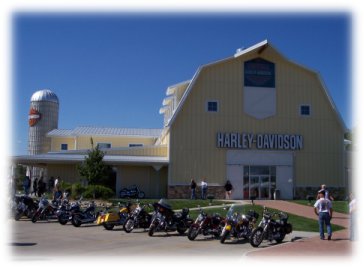 We spent a good chunk of this afternoon – again, absolutely perfect weather, with temps around 80 and bright blue cloudless sky – up at our local HD dealership, Big Barn Harley Davidson, at their 2008 Model Open House, where they had a burger feed, live music, in-store specials, demo rides, and a "bike night" event. Tonight they'll be showing Easy Riders on the side of the building as a "drive-in movie." I noticed that the 2007 Sportster 1200 Custom I had fallen in love with (raspberry and off-white two-tone) is gone, which is probably a good thing because now I can stop worrying about it – LOL. I've been working on a custom-paint plan for The Picky Bitch, which I think I will put into action this winter. So maybe by next spring I will have a very different-looking bike!
The event was nice, although it didn't look to me like they had all their '08's in the building yet. I sure like the Low Rider in that 105th Anniversary Copper and Black scheme. I took lots of pictures, though I'll admit they look pretty much like every other group of pictures I take at Big Barn events – LOL – anyway, you can see them in the Webshots album I put up. Be sure to note the gold metal flake Sporty 1200 – the photo doesn't even begin to capture the sparkle of that paint, it was pretty amazing in the sunlight!
Harley-Honda merger? Leveraged buyout?
Didn't think so.
I don't know about you, but I'm REALLY disappointed in the '08 lineup from Harley Davidson. There are no awesome new must-have colors on any of the bikes I've been considering, and in fact the only shiney color on the '08 Street Bob is black. All the other colors are that God-awful "denim" flat color. (Look, if I wanted to ride a bike in primer, I'd prep mine for re-painting and ride it a season in primer.)
And what the hell is that "Rocker" model? Ugly, ugly, ugly – and again too many "flat-finish" surfaces. (Yuck – give me chrome!!) There must be some pretty nifty advanced engineering in that rear assembly to make the pillion seat hover above the fender like that… I'll certainly do some reading and figure out what that is, but just based on looks? The only bright-spot as far as I'm concerned is that the 2008 Low Rider still comes in that gorgeous light-blue and black combination. That's the bike I saw and loved at first sight at the dealership in Sioux Falls, SD, on our way to Sturgis last year. It's still my best hope for a new bike – only the copper-and-black Sportster 1200 is a second possibility.
I thought that Harley-Davidson was really getting good about engineering their bikes for women… well, not necessarily for women, but doing things to the bikes (lower seat heights, easier-pulling clutches) that made them more appealing to a lot of women. But it's possible they are still missing a big share of the market. Why? Because they seem stuck on an out-dated notion of "what bikers want." Business management guru Tom Peters (In Search of Excellence
) spoke on Friday 3/16 to the Quinnipiac University Business Leadership Forum. The New Haven Register of Connecticut reported that Peters named a few of the most pressing problems corporations are facing (among them failing to recognize women as one of the single most important markets in the world economy) and stated: "…the solution is to change the corporate mindset from selling raw materials or other goods and services to providing businesses and consumers with comprehensive solutions to problems and offering customers 'experiences and dreams.'"
As an example, Peters "quoted a Harley-Davidson executive who said the company doesn't just sell motorcycles: 'What we sell is the ability for a 43-year-old accountant to dress in black leather, ride through small towns and have people be afraid of him.'"
Now the Register did not report the name of the HD exec who said this, and maybe that's because Peters didn't name his source outright. But whoever it was, clearly was only delivering part of the picture. Yes, some bikers might want small town-folk to fear them as part of their alter-ego fantasy. But HD needs to be careful in trying to characterize their entire customer base as male 43-year-old accountants. There are a lot more types of people than that buying Harleys, many of them women, and I'm willing to bet that "fear me" is not the statement the majority of them are trying to make – even in jest.
A little farther down this page are my ruminations on a topic that seems to come up fairly often in one of my favorite online motorcycle discussion forums – the question of why one rides a Harley instead of any other brand. It's interesting to me that the question is – at least as far as I can remember – always posed by a metric rider. It's never a Harley person asking, "Why do you ride a Yamaha?" I will admit to getting a little annoyed at the fact that this keeps coming up – I think the people asking are usually sincere in their intentions to learn something, but the way the discussion goes usually ends up with at least a little bit of Harley bashing. The angle of the bash is usually monetary – the folks who own metrics claim that there's no reason to pay extra for a Harley, when metrics are "just as much bike for less money," as if that were an objective end-all statement. Whether a Honda is just as much bike as a Harley is, of course, in the eye of the beholder.
One of the issues that also comes up during these discussions is the notion of the "Harley Mystique." New riders have had other people tell them that "there's a certain mystique" about owning a Harley, but they can't get any more specific than that. The phrase "If I have to explain it, you wouldn't understand" gets thrown around, but personally if someone gave me that line I'd demand something more specific. So in my response to the thread this time around, I took on the task of trying to explain the mystique, at least as I personally translate the notion. I've owned Yamahas, Hondas and Harleys, and my Sportster is my favorite. The "mystique" is actually what I like best about it, and that mystique comes from the history of the company and the way it has evolved as an icon in popular culture. The bike itself may be more expensive, but it is like owning something that has a unique place in history. The metric bikes I've owned were fun, and cheaper, but they did not give *me* that sense of being part of a long tradition. I personally enjoy that feeling, though I know that others feel paying less money or having a bike that's engineered a little differently is more important. Another aspect I enjoy of HD ownership is the strong owners' community that HD has built, both locally and nationally. My experience, both personally and anecdotally, with the metric dealers has been that they just don't do this as well as HD. So, history and community are why I ride a Harley, and I don't mind paying a little more for those things even though they are intangible.
As for the monetary aspect, let's put that to rest. Unless you're paying cash outright, you're financing your purchase. And HD is currently financing Sportsters for as little as $99 a month. Anyone who is arranging their finances to make a bike a priority will find that's about as cheap as it gets, and even HD's smaller 883 engine is bigger and badder than a whole slew of the Hondas, Suzuki's and Yamahas. (There's always the 1200 Sportster, too, for $125 a month, if you must.) So assuming you like the looks and the bike fits you, money shouldn't be the issue. Now granted, that leaves you with lots of other potentially valid reasons for buying a metric, and as long as the bike fits you and you like it, that's great and you should absolutely choose the bike that best communicates the freedom and magic of riding on two wheels. If that's not an HD for you, so be it – but quit harping about the cost, because that argument just doesn't float.
Here's the real bottom line. No one cares what you ride. Buy the bike that fits you and makes you feel great. But don't accuse Harley owners of being the snobs, because in my experience it's been the metric owners who make the snide comments and put people down for the brand they've chosen. Shame on them.
A good friend of mine at work is considering buying a motorcycle. The problem is, he's also considering buying a scooter. Now for the right person, a scooter's a fine choice. And maybe it's his international upbringing that makes him think he'd be just as nifty on a Honda Metropolitan as he'd be on a Harley, but I think it's time for a little "Biker 101." So, in an effort to help my dear friend acquire the right vehicle for his single, stable, good-looking, 43-year-old self, I've compiled this comparison which clearly shows the right choice. I'm sure he'll thank me later.
Harley: American legend.
Scooter: Urban myth.
Harley: Attracts chicks.
Scooter: Attracts bugs.
Harley: Rugged, sexy, alpha.
Scooter: Cute, sweet, "just friends"
Harley: Makes the statement, "I was born to ride."
Scooter: Makes the statement, "Hi-ho, hi-ho, it's off to work I go."
Harley: Sturgis, Daytona, Conesville, bike night
Scooter: Quik-Trip
Harley: Active owner's group meets mutliple times per month for meetings, rides, special events, and continuous customer appreciation
Scooter: Annual registration renewal at county administration building (sparsely attended)
Harley: Pack bike with tent, sleeping bag, duffle bag and folding chairs for impromptu camping getaway
Scooter: Pack "bike" with grocery bags containing elements of pathetic sedentary home life (limit 2)
Harley: Dude, it's a Harley.
Scooter: Dude, it's a scooter.