Big Barn HD Open House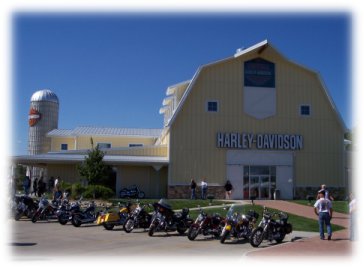 We spent a good chunk of this afternoon – again, absolutely perfect weather, with temps around 80 and bright blue cloudless sky – up at our local HD dealership, Big Barn Harley Davidson, at their 2008 Model Open House, where they had a burger feed, live music, in-store specials, demo rides, and a "bike night" event. Tonight they'll be showing Easy Riders on the side of the building as a "drive-in movie." I noticed that the 2007 Sportster 1200 Custom I had fallen in love with (raspberry and off-white two-tone) is gone, which is probably a good thing because now I can stop worrying about it – LOL. I've been working on a custom-paint plan for The Picky Bitch, which I think I will put into action this winter. So maybe by next spring I will have a very different-looking bike!
The event was nice, although it didn't look to me like they had all their '08's in the building yet. I sure like the Low Rider in that 105th Anniversary Copper and Black scheme. I took lots of pictures, though I'll admit they look pretty much like every other group of pictures I take at Big Barn events – LOL – anyway, you can see them in the Webshots album I put up. Be sure to note the gold metal flake Sporty 1200 – the photo doesn't even begin to capture the sparkle of that paint, it was pretty amazing in the sunlight!