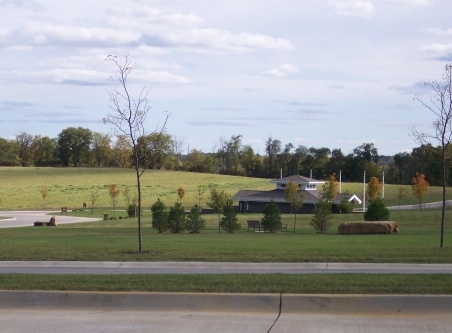 We hadn't ridden much since Sturgis, and early October's cold rainy weather was kind of a wake-up call that we'd soon have to put away the bikes for the winter. So when Sunday dawned with a bright clear sky and promises of low 60's for temperatures, I decided we needed to get out for a bit. After briefly consulting the magic map we decided to run out and see the Iowa Veterans' Cemetery just outside of Van Meter.
My local map showed that we could avoid the Interstate by simply riding west along Grand Avenue all the way to Van Meter, so we set out to do just that. A minor glitch occurred when we came upon a section of Grand that was closed with no marked detour. A slightly more major glitch occurred when Grand Avenue ended unexpectedly at a set of barricades several miles before reaching Van Meter, with a right-hand turn being the only option.
Not expecting this, but being pretty familiar overall with the concept of going one direction when I intended to go another, I knew we'd eventually end up in a spot I recognized. So we pressed on to the north and picked up Interstate 80, then headed west to Van Meter.
We arrived at the Iowa Veteran's Cemetery around 3 p.m. The cemetery was dedicated in the summer of 2008 and will serve as interment grounds for any US veteran wishing to be buried there. Spouses of veterans may also choose burial there. Because the facility is so new, there are very few actually interred at this time. Still, you can see where several sections have been started, most with only 1-2 rows of stones so far. Several permanent buildings also dot the rolling hillsides (a cemetery office, a building where committal ceremonies are held), as well as a large memorial, and there is a section where stones can be erected in memory of veterans buried elsewhere. (More information is available on the cemetery's website at https://www.iowava.org/vetcemetery/.)
We stayed for about 30 minutes and then rode down into Van Meter, where we stopped at the Casey's General Store. I asked the clerk there about a way back to Des Moines that didn't involve the Interstate. He immediately told us about "F90," the county road that I had thought was the western stretch of Grand Avenue. Despite the fact that I reported Grand Avenue ending in a forced right turn, he insisted that F90 would take us straight into Des Moines.
We left Van Meter and picked up F90 at the south end of town, then headed east back toward Des Moines. Turns out the clerk was right – F90 ends at Grand Avenue not too far from those barricades, and if we'd turned left there on our way west we would have avoided the forced right turn to the north. Ah well, all in a day's work – it was a nice ride, if a bit short in deference to the cool weather. Hoping to organize a return trip to this area next summer!