BCN Stringer Report: Enchanted Rock
(Here's the third installment of my gal pal Shirley's series of ride reports from the Texas Hill Country, where she and hubby Garry are wintering along with her sister Nancy and BIL Chuck. Take a look at the pics, and be sure to note that she points out she's afraid of heights… I'm here to tell you, she's not kidding! This was quite an accomplishment!)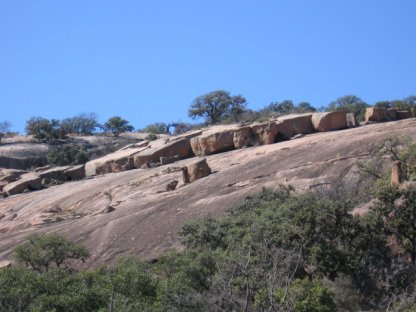 by Shirley P.
As mentioned in my last ride report, we had a couple of absolutely beautiful days to ride at the end of January. So after doing the Willow City Loop on the 27th we took off the next day to Enchanted Rock State Park. Once again starting from Kingsland we took 1431 to the west side of town and picked up county road 3404 and again across The Slab. As mentioned in the earlier report, 3404 is about 7 miles of two lane through the country road but easy to ride and reasonably scenic. 10 miles on Hwy. 71 at 70 miles per hour to what is by now our gas up and jump off point at the junction of 71 and 16.
We filled up the bikes and bought new batteries for the camera and took off for a fairly short run to the Enchanted Rock, this is only about 13 miles south of Llano.
We paid the $6 entry fee (per person) and parked the bikes to do what we intended to be a short hike along the lower trails. Somehow, however, once you start on a trail you see a view and think maybe we'll just go a bit further, and then a bit further and then before you know it you are only 100 yards from the summit. By this time the trail really doesn't exist anymore and you are simply finding the easiest path across the rock face.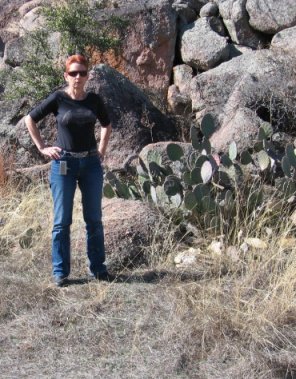 By this time the temps had climbed to about 80 degrees and everyone was watching the smooth rocks for the possibility of sunning rattlers! Thankfully, we didn't stumble across any. Those who know me also know that I have a fear of heights, especially when there is what I call a "blind drop". When we turned to start back down I wasn't sure I could take that first step as you just had to trust that once you stepped off the first rock there would be something below it. Luckily after the first step it wasn't so bad and soon we spotted the trail signs again.
For hikers this is totally cool and you can go any number of directions and presumably end up back at the parking lot. Once back at the bikes we decided a short trip back wouldn't be any fun so we dug out the county road map and started off into the unknown. Taking 965 out of the Park we went about 6 miles to Welgenhausen Road. (This is an easy turn-off to miss so watch for it on your right). Welgenhaus is another well kept two-lane and we went approximately 15 miles before needing to make our next decision at the junction of Keese Sagebel Road and Keese Road.
We decided to take the left branch but after only a couple of miles we decided we had made the wrong decision and turned around. Back to the junction we now took Keese Road. All said and done this was probably the wrong decision as both would have taken us to county road 2323 which was our goal. But for the sake of adventure it was definitely the right decision. Once again signs all along the way indicated loose livestock and many times this road narrowed to one lane with no shoulders and you really hoped you wouldn't meet anyone coming the other direction. In fact, we never met anyone the entire time.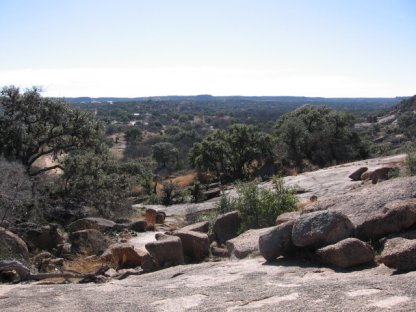 At a couple of 90 degree turns we were sure we would end at a ranch gate and have to back track but didn't happen and after what seemed a very long time but probably wasn't, we did indeed come to the junction of county road 2323. I have no idea how many miles we were actually on Keese Rd. but I'd estimate no more than 15 – though it seemed longer. Once on 2323, a beautiful two-lane, it is only about 30 miles back to Llano and it brings you in right at the junction of 16 and 71.
As always, we opted for the little longer ride through town and then back to 1431 junction (yep, Fuzzy's Corner) and on back to Kingsland. Because of the choices made we again had a great hundred-mile day. After that ride we endured several of Texas's coldest days in the past 20 years, with highs in the 20's and 30's – literally unheard of here. Good news, of course, is that it was short-lived and were back to Spring-time temps before long.
Keep the faith, all, riding weather will arrive!