BCN Stringer Report: Inks Lake State Park
My good friend Shirley has abandoned me this winter in favor of spending four months vacationing "down south." She has partially redeemed herself by sending in this ride report from her first month in exile Texas.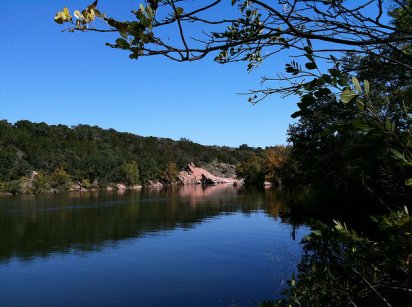 by Shirley P.
I spent most of 2010 looking forward to my retirement date of December 3rd. That date finally came and my husband Garry and I immediately headed for the small town of Kingsland, Texas to escape the cold Iowa winter. We debated for a long time whether it was worth taking multiple vehicles, specifically so we could haul the Harleys with us. With not too much debate the Harleys won.
Although the average temperature in the Texas hill country where we are staying is 64 degrees, we have seen several days in the 70's and on December 21 – yes, the first day of winter – we hit 80 degrees. Obviously the bikes came out and we did a great ride that I have to pass along.
At the eastern edge of Kingsland where we are staying we caught ranch road 2342 and took it about 15 miles to Park Road 4 which takes you through Inks Lake State Park. This lake is fed by the Colorado River. Park Road 4 is a beautiful curvy asphalt that winds another 15 miles through the park at a slow 35 mph, which gives lots of time to gawk.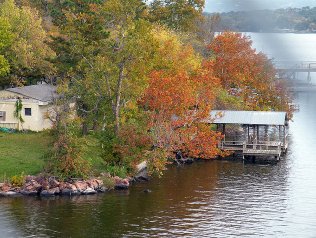 We ended up at Highway 29 and headed west back past Buchanan Dam toward Llano. Highway 29 is a wide 4-lane highway that allows you to kick the bikes back up to the speed limit. Before you reach Llano you will come to a four-way stop called Fuzzy Corner, turn left on 1431 and head back into Kingsland. Of course, once you make the turn back to Kingsland you have to stop at Pat's Bar for a cold one before going on home!
So, the decision to bring the bikes was definitely the right one! By the way, if you travel to the Texas hill country they actually have a map of rides. Our next one will be the Willow City Loop that Garry has ridden and says is a mix of hill country curves and maybe a bit of the feel of the Rockies on a couple of blind corners. Can't wait for the next unusually warm day!
— Editor's note: Thanks to Shirley for this write-up! Additional fun in the area she's writing about includes Longhorn Caverns, the Vanishing Texas River Cruise, wine tasting at Fall Creek Vineyards, climbing at Enchanted Rock, and much more. Top photo courtesy of Mike Probst, via Flickr; bottom photo courtesy of Miguel Rodriguez, via Flickr.