Sturgis 2009: Day Three, Mother of all Rallies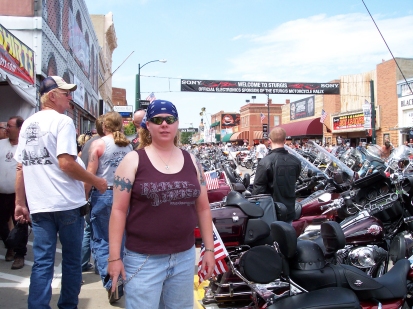 The Sturgis Rally is really just a big ride-in – it began its life as a hill-climb event hosted by a local riding group called the Jackpine Gypsies. How it grew so large is a story for another post, but it has become a sort of Mecca for bikers of every type, from casual weekend riders to the hardcore outlaw gangs. Today it's not only a hill-climb event but also a people-watching and vendor exhibition that takes up pretty much the entire town for a week.
We took Kristin for her first-ever visit to the Sturgis Rally via Highways 212 and 34, which is a "back way" that goes past Bear Butte – another stunning land formation. We parked in Sturgis a couple blocks from Main and Lazelle Streets, which are the two streets on which the vendors and bikes are concentrated. Vendors are everywhere selling everything from t-shirts to chromey bits to leather apparel and more, so we walked and shopped for most of the day. We ate free grilled sweet corn at the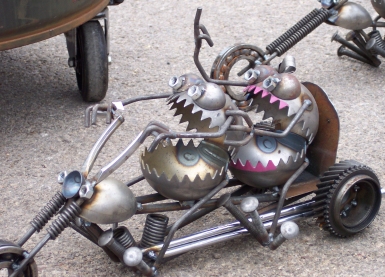 Progressive Insurance exhibit, saw some wonderfully humorous artwork by one of the vendor artists, and got the usual eye-full of Sturgis fashion do's and don'ts. (Surprisingly, it IS possible to be too old to wear a bikini top.)
After a day of this, Steve and I were ready to leave the rally itself behind, while the rest of our group made plans to return on Thursday. We rode out of Sturgis through the neighborhood streets onto Junction Avenue,  then back to Belle Fourche along I-90 and Highway 34. Dinner was again at the "choke-and-puke," as the little diner came to be known (it's actually a very good café – large portions and low prices on very good food), with a planned Tuesday run to Devil's Tower coming up next.