Estrogen Ride 2007: Day Three
The weather on this trip had simply been unbeatable: temperatures in the mid-80's, low humidity, mostly sunny. Monday was no exception, though it may have been just a touch warmer. It was still well within "perfect" range for a bike trip.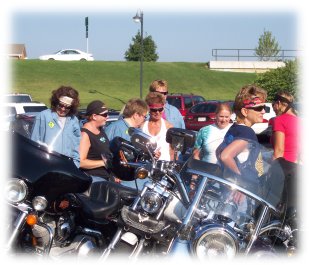 We gathered Monday morning in the hotel parking lot. A few riders were going to take the Interstate home so they could fulfill some evening commitments; a few others were going back down to Galena's shopping district before heading home. The rest of us – 11 bikes, I think – had planned a slow westward mosey with stops that included the Wilwert's dealership in Dubuque and J&P Cycles in Anamosa.
Leaving Galena the same way we'd come back from dinner the night before, Holly lead us on a short detour through Dubuque so we could all have the experience of riding through a particular neighborhood. It wasn't the historic homes she wanted to show us, though – it was the street itself: I swear to God this thing was a 45-degree incline, with a 90-degree turn-with-incline at the start and another 90-degree-turn-with-incline at the end, followed by an immediate steep decline back down. It was a road that would have really intimidated me had I not encountered something nearly identical last summer out in Deadwood at Mt. Moriah Cemetery. I knew the key was to keep my speed up (though the instinct is to take it slow) – the challenge was to do that while being mindful of what the riders ahead of you were doing.
We all made it through without problems – and gave another WOOHOO at the end – and then we were on to Wilwert's for more shopping.
After Wilwert's, we headed out of Dubuque and traveled Highway 151 to Anamosa, where we stopped at the Iowa biker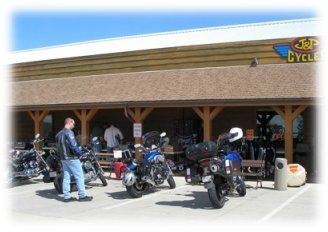 mecca, J&P Cycles. J&P is a retail and mail-order company offering all manner of bike parts, accessories, apparel and gifts. Their catalog is a must-have for anyone who rides, and their annual Open House event draws thousands of bikers from around the Midwest. We did some shopping and then headed on down the road to Scooter's, a biker bar and grill that looked brand-new, where we had a really good lunch and took some time to pass our cameras around for a preview of some of the weekend's pictures. That was an eye-opener, to say the least.
I'll pause here a moment while you ponder that statement.
We continued down 151 through the town of Marion on the outskirts of Cedar Rapids (larger Iowa city), and it was here that we had our biggest traffic problems with cars separating our group and trucks unwilling to give an inch to help us keep together. More butt puckering as we ran the gauntlet down to the junction of 151 and Interstate 80 at the Amana Colonies, then thankfully a gas stop where we could breathe again for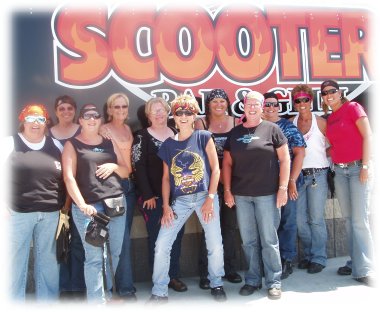 few minutes, count fingers and toes to make sure we were all still in one piece, and get familiar with the westward route home. (I didn't get the full story, but I know Judy B. had a close call with an impatient driver during this portion of the ride. She was understandably pissed and a little shaken at the gas stop.)
We followed County Roads F52, F57 and F62 west, and took our final gas stop at Prairie City about 20 miles east of Des Moines. We toasted our trip and said our good-byes, as we'd all be peeling off in different directions once we hit Highway 163 into the city. It was the last "group moment" of an awesome three-day adventure, and we vowed to expand on the idea for next year with more days and more amazing women.
I rolled into my driveway at home at about 6:30 p.m. Monday night, wishing I'd taken an extra day off work to recover from my vacation but happy to see my family and thrilled to note my biker sunburn: the lower two-thirds of my face are deep red, while the parts covered by my sunglasses and do-rag/helmet combo were distinctly lighter. It's a look I wear with pride!