Estrogen Ride: Dinner in Balltown and a dark ride back to Galena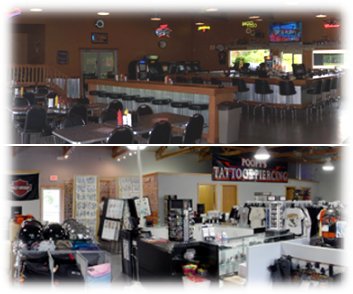 Having conquered Poopy's, we left Savanna around 5:45 p.m. with Laurie and her GPS-equipped bike in the lead, and headed for Sunday night's supper destination: Breitbach's Restaurant in Balltown, Iowa. Breitbach's is Iowa's longest-existing restaurant and bar, dating back to the mid-1800's.
It's located in the tiny town of Balltown, west and a little north of Dubuque. The owners told us they had served some 1200 customers that day by the time we arrived around 7 p.m., and that was just the bikers!
Our route from Savanna took us over a grated-surface bridge back into Iowa (which gave new meaning to the term "squirrely" – riding that surface felt like the bike was going to slip out from under me! – interesting!) up Highway 52, through Dubuque, Bellevue and St. Donatus, then up County Road 9Y into Balltown. Of these communities, a couple things were notable: First, Bellevue is a very pretty little town with the highway running right alongside the river and a lovely, curving recreational trail running parallel on the water-side of the highway. On the other side, beautiful old and well-kept/restored 1800's buildings line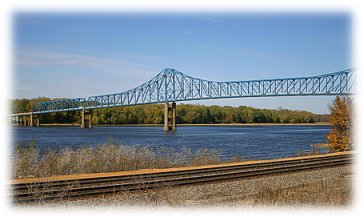 the road – I'm sure several of them must be bed-and-breakfast inns.
And second, Highway 52 between St. Donatus and Highway 151 is TERRIBLE for motorcycles! It's scenic enough, but it seems that every hundred yards or so there's literally a hump in the road where it's been repaired and surfaced with road-gouging equipment. Whoever in State Government is responsible for this method of road repair should be fired… or forced to ride his/her handiwork on a Sportster: it feels like speed bumps! And it thoroughly ruined any enjoyment I got out of that portion of the road – perhaps the gals on the larger bikes didn't feel it as much, but for me it was miserable and it actually ruined my good mood for awhile. (It also doesn't bode well for the community of St. Donatus – this is the ONLY thing I remember about passing through what may very well be a lovely town.)
Pulling into Balltown, we met up with the gals who had skipped the side-trip to Poopy's and had traveled over directly from the hotel in Galena. Once again, the restaurant was prepared for us with an excellent, well-stocked buffet and plenty of available seating for all. By this time there were plenty of shared road stories flying around – deer sightings, favorite scenic views, notable Galena shops, over-eager McGregor locals, etc. – so dinner was a delightful combination of great food and spirited conversation.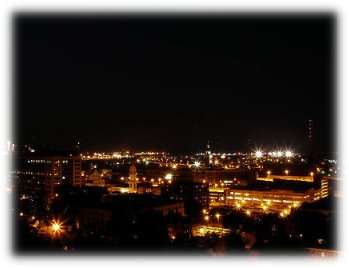 The ride back to Galena was interesting. I hate riding deer-laden roads at night. (I'm quite certain the little buggers hover behind every tree on these dark country highways, just waiting for the opportunity to spring out onto the road and offer a cheerful – if stupidly mutually-destructive – "hello!" to us bikers.)  By the time supper was concluded, it was dusk and now we had to ride back to Galena… along an unfamiliar deer-laden road at night. To further complicate things for me, I happened to be the last bike out of the restaurant, and the closest bike to me was a good hundred or more yards ahead for the first several miles of the trip. I had to ride about 10 mph faster than was comfortable for me on that road just to keep tail lights in sight, and that made me far less confident that I would spot any lurking deer far enough in advance to avoid a collision. (This is where the "ride your own ride" advice kind of fails: if I had ridden my own ride, I would've slowed down – but then would have quickly lost the rest of my group, and been forced to ride alone at night without a map in unfamiliar territory.)
I caught up with the group once we got to Dubuque, but I still felt like I was riding too fast. (And we were not speeding – the group was riding the speed limit! I just felt very unsure of the territory.) I was pretty damn happy to finally roll into Galena – it was only a half-hour ride, but it was for me a 30-minute butt puckering, character-building ride.
The rest of the evening in Galena was spent on the hotel patio, enjoying drinks and again sharing road stories. The next day would be head-for-home day.
Next up: More butt-puckering roads, a stop at J&P Cycles, and home!