Estrogen Ride 2007: Day Two Ride Report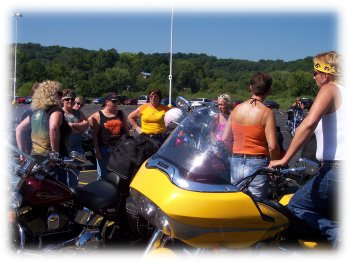 Day Two started out with a fond (if slightly hung-over) farewell to McGregor and a short hop down the road to the Isle of Capri Casino, where we enjoyed the breakfast buffet.
Once finished, we headed to the parking lot to learn the plan for the day and to say good-bye to several folks who were headed back home, including all the gals who had driven in cars. I learned later that one of our riders had a little trouble and dropped her bike in a tight, slow-speed corner going out of the casino, but she was not injured and neither was her bike so she continued on without incident.
We left the casino in our small groups a few minutes apart and crossed the Mississippi into Prairie du Chien, Wisconsin.
We took Highway 18 down to Bridgeport. Just south of Bridgeport we picked up County Road C, which is a must-ride for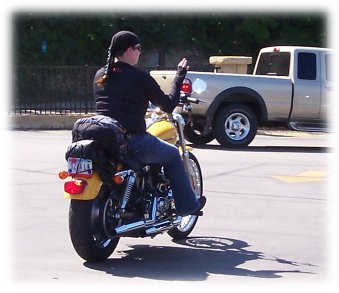 anyone visiting that area. It's a narrow little road under a canopy of trees which runs right alongside the Lower Wisconsin River (which feeds into the Mississippi back at that Pikes Peak Overlook) and offers constant twists and curves as well as beautiful views (woops! and deer!). Our group spread out a little so we could each enjoy the road, and when we pulled up to the stop-sign at the end of it we all let out a "WOOHOO!!" so Holly would know we had enjoyed it.
From there we headed south down Highway 61 – our group made a stop at a Wisconsin cheese shop where we all purchased fresh cheese, then continued south to Galena. Somewhere along the way we got off our planned route and went through Dickeyville and East Dubuque, eventually coming into Galena on Highway 20 from the west.
Our stop here was at Wilwert's Harley Davidson (which also has a location in Dubuque, Iowa), and turns out our hotel was right across the parking lot from the dealership – fortunate, because I had a few purchases to haul and thankfully they didn't have to go far!
Some of the gals headed down into Galena's main shopping district – I checked into the hotel (Stoney Creek Inn – VERY nice with a cute "lodge-look" theme) and then headed that way. Galena is a popular tourist destination precisely because of the well-kept old buildings and the concentrated shopping on the main business street. Hundreds of little specialty food and gift shops line the narrow street with it's 1800's architecture and pretty landscaping.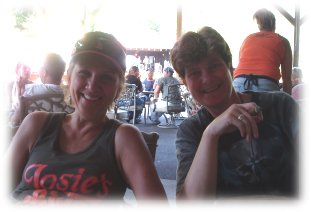 I met up with Susan S. and Michelle C. once I got parked; my only purchase (besides bottled water) was a bottle of homemade hot sauce from Galena Canning Company. Although Susan and Michelle had been there awhile already, I only got to shop for about half an hour before Theresa called to say a group was headed down to check out Poopy's, a biker bar/repair shop/parts store located in Savanna, IL about 30 miles south. The three of us decided to cut shopping short and go to Poopy's.
The ride to Savanna was also very scenic, but this was when we had another bike-down incident. Because we missed the actual turn-off to Savanna, we had to turn around at one point. We pulled into a small utility area with propane tanks situated in it, but it was large loose white rock and gravel. The driveway to get out was a steep incline with only a small cement pad at the top, and one of the gals riding an Ultra Glide got situated on that incline in the loose rock and lost her footing. The bike went so far over the wheels were pointing up. She also fell, but was not hurt. It took about six people working to lift the bike, but fortunately the damage was limited to a broken tab on one of her fairing louvres, a few scratches, and a loosened footpeg.
Once in Savanna we had a little trouble locating Poopy's (the address we'd been given was on the main street – it turns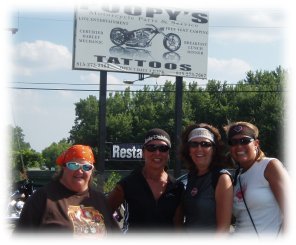 out Poopy's had relocated a little ways out of town), but true to our womanhood we were not afraid to stop and ask directions so we soon found it.
What a neat place! Poopy's is actually a sort of multi-purpose biker gathering place: it consists of a large building with large paved parking lot, a covered patio, and a "backyard" area. In the building are a bike repair shop (they fixed the loose footpeg on the Ultra Glide free of charge!), parts, accessories and apparel store, tattoo shop, bar and restaurant. The bar and restaurant extend out onto the patio, where there's also an area with pool tables. In the "backyard" there's a stage for live bands to play, and a grassy area where bikers are inited to tent-camp for free. Every Friday night is "bike night," so I imagine there's a bit of a rowdy party followed by "sleeping it off under the stars." Like County Road C up there in the 2nd paragraph, Poopy's is a "must-do." (This is where we saw the best t-shirt of the weekend. Poopy's servers wore bright orange t's that said, "Please tip generously. Poopy's pays shit!"
Next up: A great dinner followed by a butt-puckering ride back to Galena!