Estrogen Ride 2007 – Thank-you's!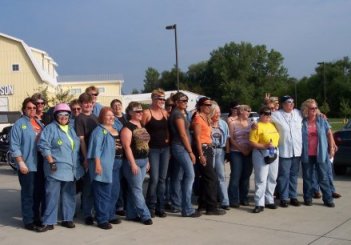 WOW!!
I don't even know where to begin chronicling this awesome trip – the 2007 "Dangerous Curves" Estrogen Ride! From the bikes to the people to the weather to the route to the sights to the arrangements, meals, and gas stops, it was about as perfect a trip as you can imagine.
We left Des Moines promptly at 8:30, proving to the skeptical husbands/SO's that 30+ women CAN all be ready to go at an appointed time (the SAME appointed time, mind you!) if the occasion is worthwhile enough. And the last of us arrived home, as far as I'm aware, around 6:30 p.m. Monday night – perhaps the gang from Carroll took a little longer?
I do know that before I get to the actual ride reports, a few big thank-you's are in order:
First, Holly N. put together this awsesome trip from start to finish. She planned three days of scenic rides, secured hotels with plenty of room, arranged for restaurants to accommodate us, ordered perfect weather, and still left enough time for a side-trip to Poopy's!
Sue S. made sure we all looked the part with awesome denim shirts embroidered with a ride logo and a nickname – this started out being a fairly safe bet for her, because originally she was only expecting maybe nine or 10 participants. I'm sure she must have gotten a little panicky as the number of riders grew and grew, but she hung in there and all who wanted them ended up with a "Dangerous Curves" riding shirt!
And, each of our sub-groups had a ride captain and a sweep rider – I don't think I can remember all of them… I know that Holly, Lee, Diane, Carole, and Carla all helped out in this way.  But I know there were others,  so ladies if you served in these roles, THANK YOU!!
I'll close this first-of-several posts about the ride with a tip for anyone organizing a group ride: do what Holly did – break the large group up into smaller groups, with a captain and a sweep for each small group and a common destination at the end of the ride. It's easier to keep ten bikes together than 30… more efficient at gas stops and potty breaks… and safer on the road because there's less chance of cars sneaking their way into the column.
Coming next, DAY ONE ride report!