Rizzo… or Corn Dog? Indianola Bike Night and a short Saturday ride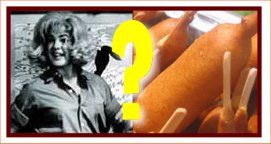 Another beautiful weekend here, 70's and 80's for daytime temperatures – a little windy, but bound to be that way in Iowa til July so might as well ride. And attempt to answer the age-old biker chick question, "Rizzo? Or Corn Dog?"
Friday night was Indianola Bike Night, one of our favorite monthly events. Only part of this event I don't like is the ride home… it's usually 10 p.m. when we head home, up Highway 65/69 which is hilly – meaning, visibility is bad enough because it's dark – but add lots of hillcrests where you are really trusting there's nothing stopped (or crossing) in the road just over the top of the hill, and it begins to feel like a sort of "gauntlet."
This particular night we rode with Garry & Shirley, Susan "Coyote" & Paul, and Kristin & Hollie – had a little trouble when we got separated on the way down, but everyone made it to the event within a few minutes of each other so all was well. As usual we just walked around the square looking at bikes, had supper… should note that Shirley got awesome loud pipes on her Yamaha V-Star… just in time to take a trip to Colorado!
Cute side story: Susan and I are going on a "Ladies of Harley" 3-day ride in late July. This group decided it would be fun to adopt road names for the event, and since I always liked the Stockard Channing character from the movie "Grease," I was going to call myself Rizzo. Susan was debating calling herself "Coyote." So as we're walking around the square in Indianola debating the road name "Coyote," we round a corner and come upon a food stand called "Howlin' Coyote." "See," says Susan, "it's a sign – I'm supposed to call myself Coyote." Well I turned and just 10 yards up the way is another food stand that just says "CORN DOGS." So I said, "Well if we're relying on signs to pick our names, then mine must have to be 'Corn Dog.'" Maybe you had to be there, but we got a huge laugh out of that and decided that we would have to produce a female buddy film called "The Adventures of Coyote & Corn Dog." And now I'm not sure if I should pick Rizzo or Corn Dog for my "road name" for the LOH ride… if you'd like to cast a vote, just send me an email!
Anyway, Saturday I bugged my family until they agreed to go on a ride… I wanted to go all the way over to Toledo, Iowa to see the last remaining Lincoln Highway Bridge in Iowa, but we ultimately compromised and went down to visit some friends in the southeast part of the county. (I must be hormonal or something – when I saw my friend Kathy, whom I haven't seen for about a year despite being really good friends with her for about 15 years, I told her I missed her and got all emotional. Gads I'm a dork sometimes.) Visited with them for a couple hours and then took a scenic route home down Highway 316 – through some really severely flooded farm fields – to Highway 5, then back up 5 through Carlisle and home.
Killed the afternoon doing all this and had a blast – beautiful again on Sunday but spent the day working in the yard and doing laundry. Going to have to pick a road name soon… one of the LOH gals will embroider it on a shirt for me if I can make up my mind in time!