Nice new short route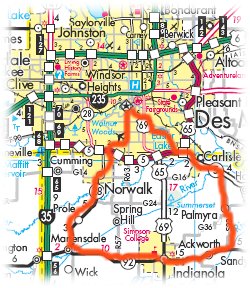 What a great weekend! Weather was beautiful both days, and Mother's Day was sweet as always with my daughter and husband indulging my weakness for garden statuary.
Steve and I took a really nice ride on Saturday afternoon – our neighbors, Kristin & Hollie, both ride now (Kristin just bought a new Sportster 1200 and Hollie wasn't content to ride pillion for long – she bought an '83 Yamaha 750 Virago "Midnight Special"), but Hollie's a new rider so just experiencing all her "firsts." She decided she was ready for the highway on Saturday, so I planned a short (-ish) route that took the four of us south out of Des Moines and down to Carlisle, where our friends Garry & Shirley live. Stopped by their place to see if Shirley was back from the tattoo parlor yet (she wasn't), then we headed down to Indianola to see if we could catch up with her still at the shop. We took a pretty county road (the one we always take to Bike Night) down to Hiway 92, then west to Indianola, where we found Shirley still at the tattoo shop with her sister. She had just finished getting a really cool mystical dragon on the back of her shoulder, so we hung around and admired it for awhile. Then stopped at the A&W for a snack and headed west out of Indianola on 92. This is a very pretty hiway in and of itself, but then we picked up 28 going north back toward Des Moines, and boy was that nice too! Very picturesque. We rode about 63 miles total, but took almost four hours to do it! LOL – Guess we are good at moseying!!
It was a trouble-free ride but it should be noted that Hollie had had a mishap earlier in the day where she actually took a spill – she was trying to maneuver the bike on a stretch of pavement where there was a "seam" in the road with the two parts of the road at different heights, and the tire caught on that "groove", and the bike was pretty much yanked right out of her hands. She has a nasty bit of road rash on her arm and a few bumps here and there but thankfully is otherwise okay with only minor quick repairs (courtesy of my dear hubby Steve!) to the bike. I don't think anyone would've blamed her if she'd decided to opt out of the planned afternoon ride with us, but she decided to get right back on and rode great the rest of the day. So glad she is okay, and so thankful for the beautiful weekend!