Biker Chick and family head to Pella, Iowa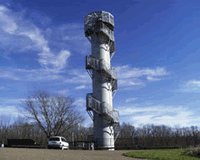 I knew when I got out of bed on Sat. August 6th it was going to be a perfect day – the kind with a bright blue sky and
sunshine, no clouds, mid-80's for temps. Decided we were going to ride to Pella, Iowa, a picturesque community about 40 miles southeast of here with distinctively Dutch heritage and the tallest working windmill in the U.S. Got the family out of bed (lazy bums!) and announced our plans… a few grumblings, but hey, if I don't push 'em they would just as soon sleep til noon. No sense wasting such a perfect day!
The ride down Hwy 163 to Pella was uneventful (though I missed a turn-off to a more scenic route, being unfamiliar
with the area), and very enjoyable. Once in Pella we saw the klokkenspiel (giant clock in a Dutch-style clock tower, with animated figures that come out and move around when it chimes) and also stopped in the Historical Village. This is a small touristy-type venue that offers a tour of the Windmill, plus a "village" of the types of shops and buildings that would be found in an 1850's Dutch town. Unfortunately, we were travelling on the cheap so decided not to pay the $20 it would've cost for the family to actually take the guided tours. Kinda wish we had spent the $$ now, as I'm sure it would've been really neat to see the whole thing. As it was, we got to watch the windmill at work, and studied a very nicely-done (free) timeline of Pella history.
We had lunch at a little diner called the Windmill Cafe, then back on the bikes and travelled the short way down to Lake Red Rock and Knoxville. While en route we passed Cordova State Park, home to the tallest observation tower in the Midwest. This thing is an interesting structure: it used to be a water tower serving the state parks in the area, but when they all hooked up to the rural water system the tower was no longer needed. In 1995 they decommissioned it, and in 1998 they built a spiral stairway around the outside of it and an observation deck at the top. The deck is 106 feet, and 170 steps, off the ground.
Stef and I decided to make the climb – she's afraid of heights and I'm not in the best physical shape for this sort of thing (two days later and my thighs are still burning!), but we both made it and discovered that the view of the surrounding Des Moines River Valley is breathtaking. On this clear day you could see several miles in every direction, and we spent about 20 minutes enjoying the vista.
The only bad part of the day was that at one point on the road, I started to feel these little needle-sticks on my shoulder… then down near my waist (okay my "spare tire", which is not so much flab as it is a protective overhang for my nether-region)… and then more back up on my shoulder. It was painful, and driving me NUTS, as the sticks were hitting me every few seconds. I decided that a bee must have got into my shirt, and I had to pull the bike over because there's not much patting and shoo-ing one can do while going down the road. Pulled my shirt out of my jeans and Steve said something flew out – but only one something, so he said it had to have been a wasp because of the multiple stings. Anyway, got it out of there and put myself back together; now I've got about six sting marks that are itching like CRAZY.
In all we put 120 miles on the bikes – I am fast-approaching the 2,000-mile mark for the season.