Why I ride, Part 5 – Epilogue: Potential… and perspective
"It's only when you hit your 40′s that you can look back at a picture of yourself when you were in your 20′s and realize just how much potential really lay ahead."
That's a paraphrasing of a remark I heard once on the radio that really hit home. And it's so true: you really don't understand, when you're young, what it's going to be like when you look back. And then, when you are in your 40′s, and if you happen to come across a picture of yourself from, say, your college days, you probably gasp and think, "Look how YOUNG I looked!" And the reason it's so surprising, I believe, is because you're seeing not just your physical youth… but your innocence, too, and complete lack of perspective.
It's been kind of entertaining recently, recalling the memories and milestones in the "Why I Ride" series I've been posting. And on a parallel plane, I've been looking through a lot of old pictures for other reasons – and that's been equally entertaining.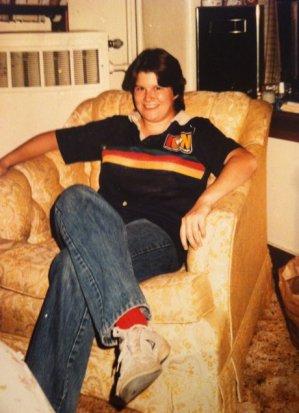 The shot of me at left is from the Fall of 1983. I'm 21 years old; that's just shy of 30 years ago for those keeping score. I'm about five years past my last ride on the Honda Express, but five years away from the epic trip with Steve to Colorado. Kind of a mid-point in my motorcycle journey where bikes aren't even on the radar. The picture was taken in my efficiency apartment across the street from the Iowa State University campus in Ames, Iowa, early in my first semester at the school, to which I had transfered after two years elsewhere.
I look at that picture and I can immediately conjure all the most important circumstances of my life at that moment – and of course memories of "bright college days" come flooding back.
But today, I also realize that at the moment this picture was taken, I knew what I wanted to do but I had no idea who I would become. And I think that is the question that pulls so strongly at your heart when you come across a "young" picture: Did I become who I thought I would be? And perhaps more importantly: Do I like who I've become, even if it's not who I thought I would be? 
I am very, very lucky – when I look back at a picture of myself in my 20's, I don't think about failing to meet my potential – though Lord knows I haven't achieved half the shit I'm capable of. I just laugh about how smart I thought I was, but how little I really knew about the world, and true joy, and true pain, and what's important.  I might also pine just a little for the tiny sum-total of my life's worries at that moment. That's the perspective 30 years gives you, I guess. I'm grateful that I feel like I'm doing okay when I stack my present life against what that girl had planned for her future.
This week I read a lovely blog post by Jeff Maddox, who calls up a few of the key moments in his younger days when "life became a little bigger."
Life was going on around us and we were taking in the view beyond the grasshoppers, mud puddles and those really straight sticks you would find every so often that you couldn't stand to leave behind.
That business about straight sticks really grabbed me, because for me it was pretty rocks: I'd walk home from elementary school every day past a house with a pea-gravel driveway, and almost daily I'd find a little rock that was so pretty I had to keep it – failing to understand that it was the whole driveway that was cool, not just one little rock. And that that one little rock's purpose was not to serve as my own personal treasure, but to be a beautiful detail within something larger – something that needed to be left intact for others to see, and appreciate, if only they would take the opportunity.
I think that's ultimately why I ride. After the goofy phone booth, the nerdy Honda Express, the rickety learner bike, and everything else, I ride because it is a tremendous opportunity to live in the moment. To experience ordinary details – like deep green corn stalks tipped in early Autumn gold, or a ten-degree drop in temperature at the bottom of a long hill, or the scent of manure coming off a farm field – that I would otherwise miss because life has become so much more complicated.
I think it's also why I spend so much time on this blog spotlighting the details of each and every ride. I want as many people as possible to simply look around for themselves and see the details of their own life – and appreciate their beauty, and the beauty of their own big picture.
Even if they aren't who they thought they would be.
Here are the other parts of this series:
Part 1: The Telephone Booth
Part 2: The Honda Express
Part 3: A Sickly Bleating
Part 4: Rebel Biker Mom