Why I ride, part two: a lime green Honda, and the ex-wife's riding jacket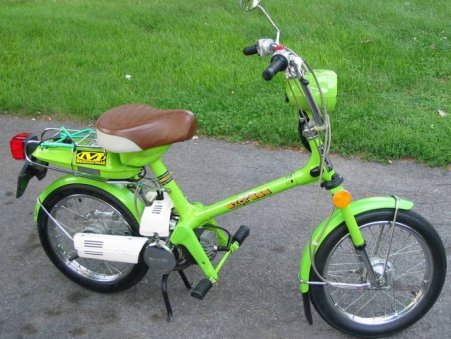 I started riding two motorized wheels when I was 15.
In 1978, after much begging, I convinced my parents that I should have my first "motorcycle": a lime green Honda Express. A moped without the pedals. (God how I wish I had a picture of it! Sorry to say the photo at left is not my ride, but it looks JUST like it! Photo courtesy www.mopedarmy.com.)
I talked about wanting one for a year before my folks finally relented – my Dad offered to split the cost, and my mom insisted that I wear a helmet. (The helmet I picked out was purple and glittery – "metal flake," I later learned it was called.)
I loved that thing. The exhaust had a distinct smell that I associate with the exact spot in my parents' driveway where I'd wheel it out into the sun, checking it over and prepping for a ride.
The day I bought the bike was the day I learned that the cheap-ass dealer had only put a miniscule amount of gas in it, because I ran out of gas on the way home from the dealership, at the foot of our long, steep hill.
I also remember going around a curve in the neighborhood and hitting a patch of sand, and the whole bike suddenly went out from under me. I hit the pavement and watched the bike skid a few feet on its side, right before my head bounced off the curb. (Point taken about the helmet, Mom.)
And of course, I remember riding the damn thing all over the place for the next couple of years: to the skating rink, up and down the street in front of a certain boy's house (maybe multiple boys, okay? Don't judge me!), back and forth to my job reading newspapers to the blind lady.
The thing was, I was about the nerdiest moped rider in town: scooting around in my "Let's Get Small" t-shirt, ripstop nylon jacket with the NBC (television network) logo on it and my purple glitter helmet. But I didn't care – I loved riding it, and it suited me perfectly.
Eventually, of course, I bought a car and sold the Honda. As much as I'd like to claim that I knew one day I'd re-emerge as a Harley-riding Rebel Biker Mom, I can't. The Honda was awesome, but it was just something I owned at the time. When I sold it, the era had ended without fanfare and without any real hint of what was to come.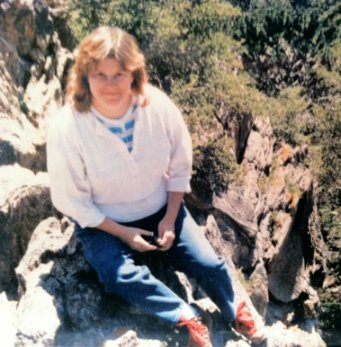 It was almost ten years before I sat on another motorcycle. By that time I had graduated high school, and college, and had been in the workforce for a couple years. I met my future husband at the TV station where we both worked, and as soon as we started seriously seeing each other, he invited me to take a bike trip to Colorado.
It sounded like a blast, and it was – 10 days riding pillion behind Hot New Guy on a Yamaha 1100 around Rocky Mountain National Park, Leadville and Colorado Springs, and of course back and forth across Nebraska. No doubt, I was still a nerd: I had no gear of my own, so I wore his ex-wife's jacket and helmet. But the trip planted the seeds of true appreciation for the different landscapes that make up America and the adventure of finding lost little towns, great local eateries and beautiful landmarks.
Still, no sense that one day I might ride my own bike. Even after tooling around on my Honda Express, even after that first glorious "real" trip, the day when I would learn to ride my own was a long way off.