Sturgis 2006: Days 1 & 2 – Riding from Des Moines to Belle Fourche
See all photos from days 1 & 2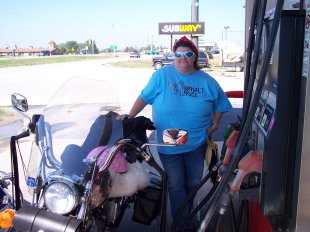 DAY ONE:
Our Sturgis adventure began with rain. We had dropped the dog at the kennel, and our daughter at her friend's house, on Friday evening and were ready to leave early Saturday morning, August 4. No trouble getting up at 5 a.m. – I don't think we really slept all that well to start with. With only minimal delays we were at the gas station at 6:30 and noticing the clouds in the west. We gassed up, then hopped onto I-80 west-bound… and within three miles, felt the water start to fall. Pulled off at a rest area to put on our rain suits (we knew we'd use them eventually – but, five miles from home??) then headed off again. The rain came down hard for probably 30 minutes – I was in the lead and could barely see, but I thought, 'well this is riding in the rain so I'd better get used to it.' As it turns out, it was really hard rain comparatively speaking, and Steve says I should have pulled over for it. Woops! We rode in the rain for awhile – and every time a truck passed all I could think of was, I'm drinking that filthy wash coming up off his tires! Eventually – mercifully – the rain slowed then stopped.
Our first gas stop was in Walnut, Iowa, about 85 miles from home. (Did I mention I'm on a Sportster? I never wanted to run out of gas, so I had planned stops about every 90 miles or so – some more, some less, but overall this plan would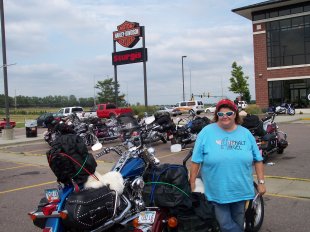 serve us well!) We took off our wet gear – my leather fingerless gloves had left a blue-ish dye all over my hands in a pattern resembling extensive tribal-style tattoos. Dried out a bit and then headed westward again, from I-80 to 680 west and then I-29 North. Next gas stop, "Dave's World" at Onawa, Iowa… then on to Sioux City where we made an unplanned stop at the HD dealership to purchase a replacement nut to hold my luggage rack onto the fender – mine had vibrated off somewhere along the way already! Bought some t-shirts at Rooster's HD and then onward to the next gas/lunch stop at Beresford, SD – the Super 8 here is where we'd be staying overnight on our return trip… another stop at the Sioux Falls, SD HD dealership off I-29 for a big "welcome bikers" party, where I saw my next bike: a 2007 Low Rider in Blue Denim & Vivid Black. We rolled into Mitchell, SD about 5 p.m. – 11 hours to go 350 miles! Our motel (reserved in advance) was a Best Western, quite decent with an ice-cold air conditioner (critical equipment for Steve) and across the street from a good steakhouse. After our steak dinner we were ready for bed, and asleep before 10 p.m.
 DAY TWO: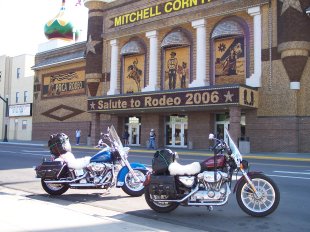 The next morning we slept a little later than planned but discovered that this motel had another nice feature: a working waffle iron in the lobby with pre-measured cups of batter, plus butter and syrup to make a free, hearty breakfast. Re-packed the bikes and decided to run over to the tourist stop Mitchell is famous for: the Corn Palace, a big building covered in kernels of corn. We probably should have taken time to go inside for the complete tourist experience, but we were anxious to get on the road so we paused long enough to take some pictures and headed west again on I-90 around 10 a.m.
The weather for Day 2 was beautiful – hot, but not humid… nary a drop of rain as we rode! Gas stops were in Kennebec and Kadoka, and we made a scenic stop at the Lewis and Clark Rest Area outside Chamberlain, SD with a beautiful view of the Missouri River (L&C Slept Here). And of course we stopped in Wall, where we visited the must-see Wall Drug for lunch and a little souvenir shopping. (I am SUCH a sucker for these things – I LOVE Wall Drug with its cheesey fake-Indian beaded belts and Beanie-Baby-size Jackalopes…) A couple more photos, and we were on to Rapid City for our final gas stop before our destination.
I think we rolled past Sturgis on I-90 around 5 p.m. and got our first glimpse of what a true cluster-fuck it is… It was a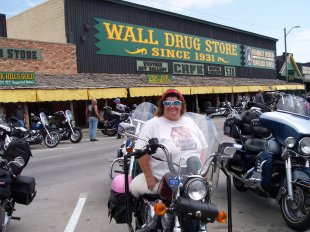 great feeling to know we'd made it that far, but we still had an hour or so to go as we were staying in Belle Fourche which is about 30 miles farther north and a little west. We turned north onto US 34 just outside of Sturgis and took that straight into Belle Fourche – heavy crosswinds kept us on our toes for the last 17 miles up 34, and our little motel (The Raptor's Nest Inn) was a welcome sight off to our right when we came to the Belle Fourche Junction. Garry and Shirley weren't around when we arrived (they rolled in around 7:30 as an evening thunderstorm was ending) so we ordered a pizza and got unpacked. The motel was interesting – it's run by a young couple who host "dinosaur digs" throughout the rest of the summer – he's a paleontologist, she's a former licensed massage-therapist-turned-fossil-restoration artist – anyway, the rooms had cute dinosaur themes and king-size beds… well okay, some had BUNK BEDS, but *we* had a king bed. Big *whew* on that one! At first we weren't too impressed with the accommodations – this room cost the same as the Best Western from the night before – but as the week went on, the little AC unit was more than adequate and they even left it on for us throughout the day so our room was always cool when we rolled in. The only thing they could have done better was provided bigger bath soap, but we sure could solve that problem by making a run to the Family Dollar Store down the road. So overall, no complaints about the Raptor's Nest Inn, and the owners were very interesting folks to talk with!
I noted the mileage for the first two days – 692 – and we were ready for our first trip down to Sturgis coming up on DAY THREE!