Divas ride to Maxwell, Colo and Prairie City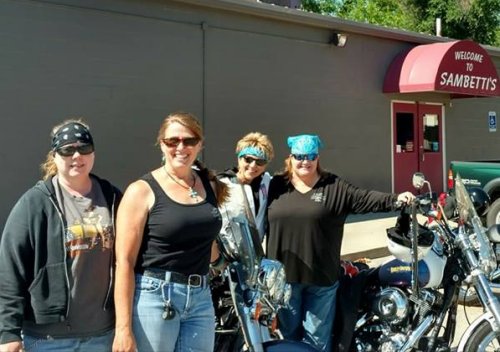 It's been a slow start to the actual riding season for my Chrome Divas Chapter. Our June ladies' social was not really a ride for us (though it certainly was for the Omaha and Lincoln gals who rode in to surprise us!), and our April and May chapter rides had both been cancelled due to unfriendly weather. But finally – FINALLY! – at the end of June we got to take a ride together.
Janet / Seven Over had planned a wonderful route that included all my personal favorite attributes: great roads, a great place to eat, small town points of interest and of course great friends.
We met up at Sambetti's (once again our official chapter headquarters – THANK YOU, Paul Strome, for your continued hospitality and support!) with four riders: Kristin, Janet, Susan and myself. We met up with Penney and Rhonda a little farther up the road at Big Barn Harley Davidson.
Janet's route took us through the Berwick area just northeast of Des Moines and up some lovely roads into the town of Maxwell at the southern edge of Story County.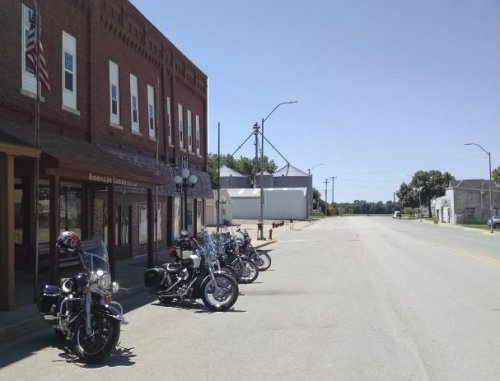 Here in Iowa we are blessed to be the home of the original Freedom Rock – a large boulder outside of Greenfield that is painted each year in a military theme by an artist, Ray Sorensen II, who lives in that area. It's his labor of love (and respect) and his gift to his community, and he's been painting the rock with a new mural every year for almost 20 years. A few years ago he embarked on a project to create a painted rock in each of Iowa's 99 counties, so our stop in Maxwell was for the purpose of seeing the Story County Freedom Rock. Maxwell has done a very nice job of creating a viewing space for the rock – it sits a block or so off Main Street, at the edge of the city park, with quite a bit of thoughtful landscaping surrounding it.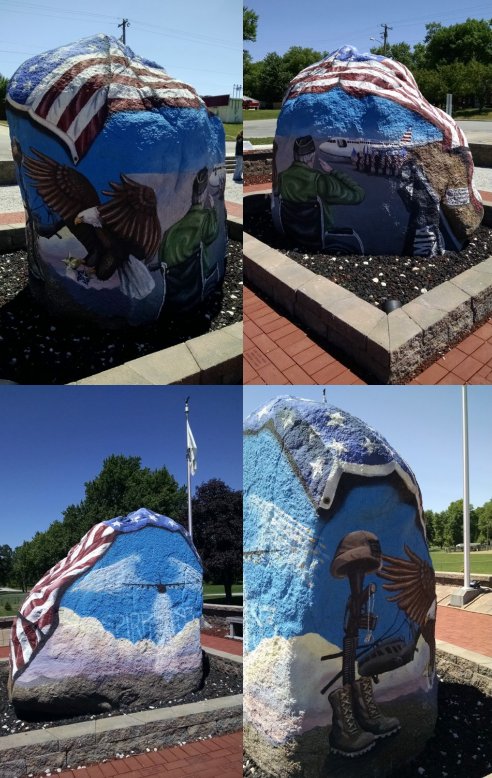 We also caught a glimpse of some of Sorensen's characters going about their daily activities in the windows of the Morris building on Main Street.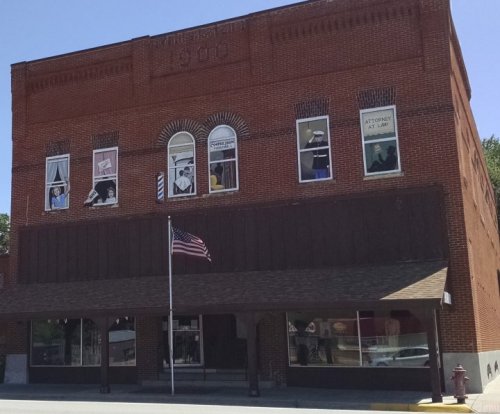 After a brief visit we headed out of Maxwell and north to modern Highway 30, which we crossed so we could pick up old Highway 30 – the historic Lincoln Highway.  The Lincoln Highway was the first nationwide memorial to President Abraham Lincoln, as well as the first paved transcontinental highway in the US. It served as an important cross-country route in the early days of the automobile. (Iowa today is home to the last remaining original Lincoln Highway Bridge.)
We rode a very pretty section of Old 30 into the town of Colo, which boasts one of those timeless roadside stops where surely travelers of decades past would have paused in their dusty journey to fuel up, have a bite to eat, and maybe stay the night. Reed-Niland Corner consists of a restored gas station with Red Crown pumps…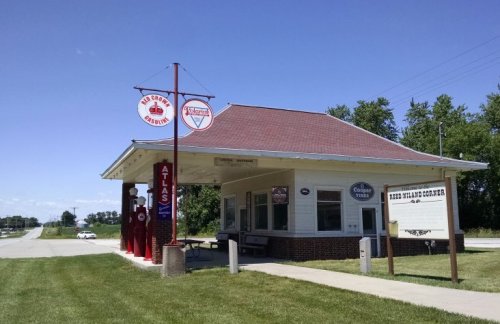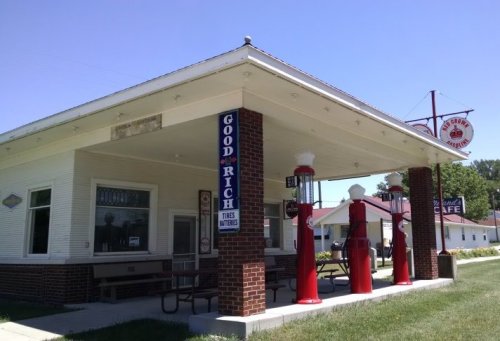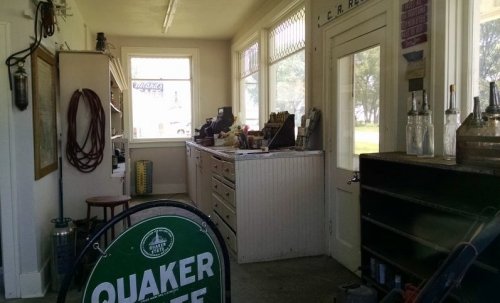 Niland's Cafe…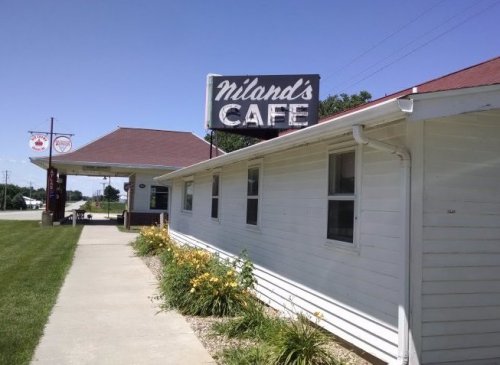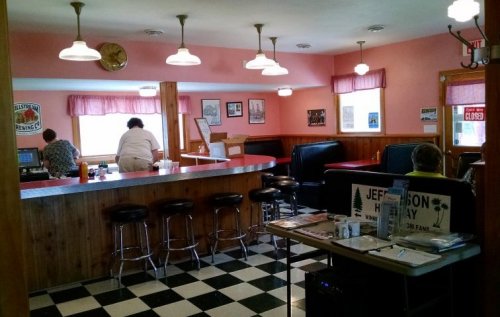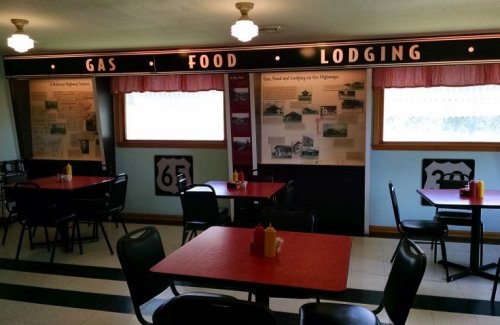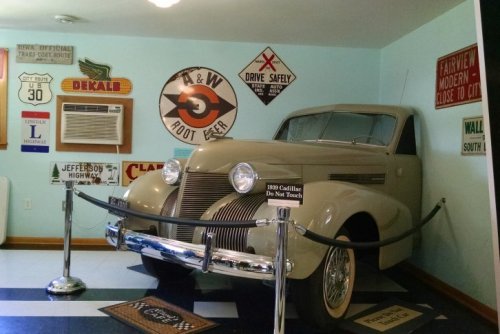 and the Colo Motel with its old Art Deco-style neon sign.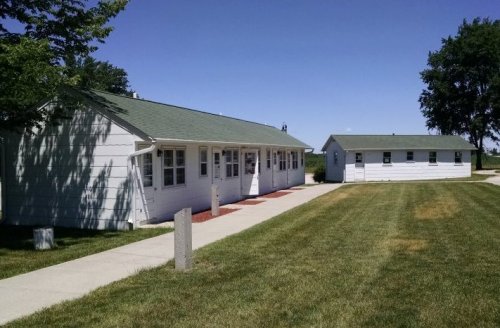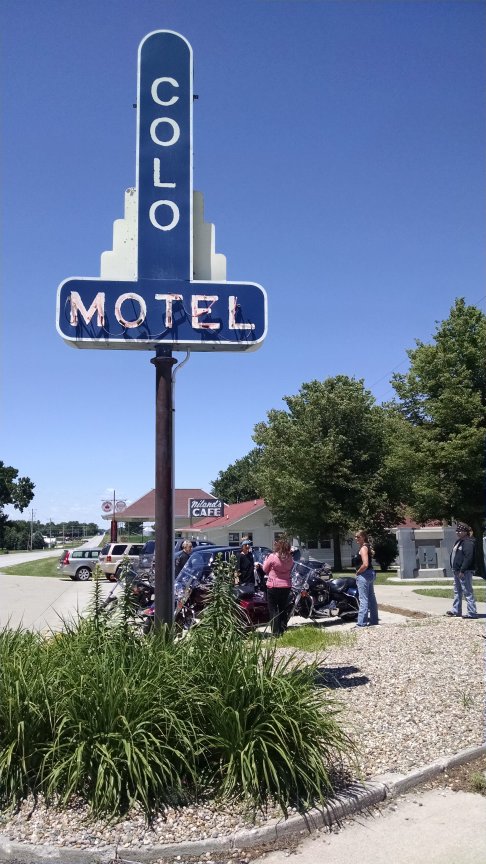 What a great little place, situated at the junction of the Lincoln and Jefferson highways – routes that were so much busier in the days before the Interstate system. You could almost picture the Burma-Shave signs that would have entertained travelers along this route.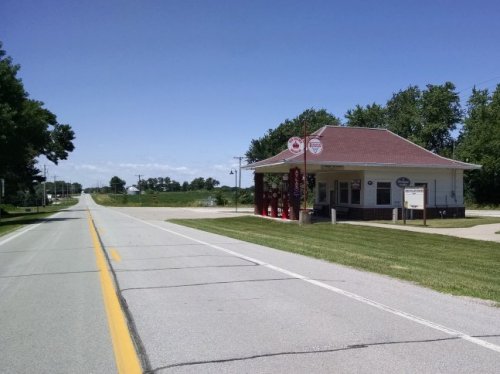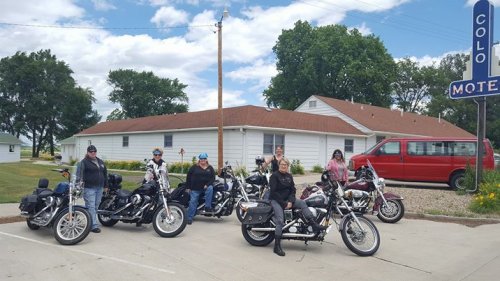 Once done with our excellent lunch, we set out to the south along Highway 65, across Highway 330 onto 117, which is a very pretty stretch leading down into Colfax.  We continued on 117 south out of Colfax and into Prairie City, where we stopped at Goldie's for some ice cream before heading back to Des Moines along Highway 163.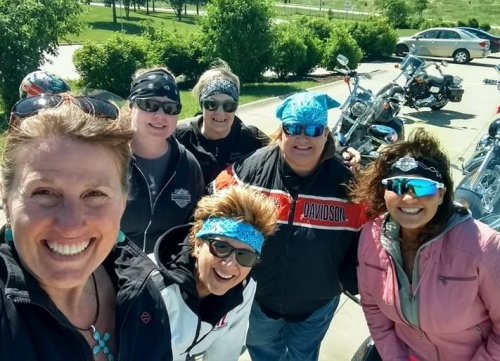 All along this route we were treated to the lush green views of Iowa in late June – beautiful rural roads with a blend of executive homes neighboring modest older farmhouses, deep green corn ranging from two to eight feet tall, textured fields of soybeans, and roadsides lined with waves of orange ditch lilies and other blooming wildflowers.
This beautiful day could not have been a more perfect example of enjoying motorcycles in Iowa!