My fail-safe temperature guide to choosing riding gear
Disclaimer – I'm not an ATGATT rider. If you are, I think that's great because that's what suits you, but you might get squeamish reading this post. :) 
It's not often in the middle of an Iowa riding season that I have to stop and really think about what gear is needed for a ride. Now make no mistake: my helmet, boots and jeans are must-haves that I never ride without. But as far as leathers or other cover-ups, I'm flexible depending on the expected weather. And at this time of year, "expected weather" normally means one thing: HOT.
But sometimes, we get unseasonably cool wake-up temperatures even in the middle of summer. For one July Divas ride, it was 58 degrees when I got out of bed! In fact, we weren't even set to break 60 before 10 a.m. that day, and the high for the day was only predicted to be around 70.
In Iowa – in July! I KNOW!!
Fortunately, I've developed over the years a good understanding of what makes me comfortable in different temperature ranges, and as long as I stick to my "gear guide," I'm usually pretty happy in most anything above 50 degrees. Although I've pretty much internalized this at this point, it was helpful at one point to write it all down. So I don't literally refer to my chart every time I ride, but thought I'd share it anyway in all its charty glory: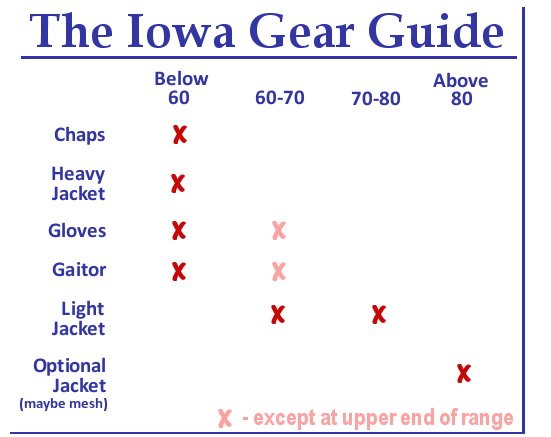 Still, it WAS July after all. And the thought of wearing gloves and my heavy jacket in mid-summer really had me wavering on whether to follow the Guide for the Diva's ride. Fortunately, I've also devised a simple test that usually convinces me the Gear Guide is right on: if I'm in doubt, I take a quick drive in the car with my bare hand hanging out the window.
This foolproof test confirmed what I already knew: I needed my heavy jacket, gloves, and gaitor, at least in the morning. And glad I wore them – I was quite comfortable all day!
So, okay – how do YOU decide what gear to wear? Click the "Comment" link above to share your thoughts!