A message from Janis
October 3, 2016 marks the 10th anniversary of the publication of this post from my original blog (long since dissolved into the internet ethos), "A Blogger Looks at Forty."  I have updated the math in the dates referenced near the end of the piece; the rest remains unchanged from the original post. Thanks for reading about these two crazy, special women. 
Why did Janis Joplin call me today?
While dressing for work I decided to take a few CD's with me, and Janis's "Greatest Hits" was one I happened to grab. At work, as I popped it into the computer to play, I studied the photo used for the cover art. It's Janis in a red peasant blouse, a slug of bracelets on her wrist and beads around her neck, perched on a motorcycle and staring out with a grin through those big round glasses.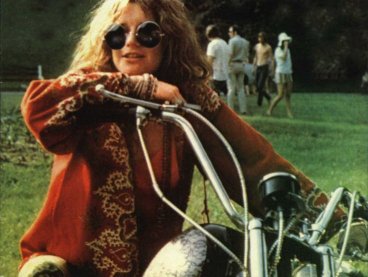 I'm feeling an odd connection to her since I started riding my Harley, but it's not because I identify much with her music or her lifestyle. (I can't get enough of her "Me and Bobby McGee" recording, which was released posthumously, but I can't say I've been a lifelong fan. And the drug culture she embraced – well that's just not my thing and never has been.) I think it's just that she embodies the freedom of spirit I feel when I'm on the bike – even though the music itself doesn't speak to me that strongly, her sense of self and the outward expression of it certainly do.
As I stare at Janis's photo, I take in her look. It's a strong, rebellious statement, one I am too straight-laced to mimic or adapt. She has, however, always kind of reminded me of my sister – from her general appearance to her hard-partying lifestyle and, ultimately, her untimely drug-related death. The photo of Janis on the motorcycle in 1970 could easily have been my sister Kathy in 1980. (Kathy rode pillion her entire life. I like to think she would've followed my example and learned to ride her own eventually, though it would have bugged the crap out of her that I'd thought of it first.)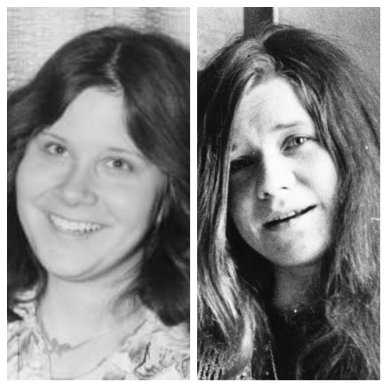 I look up a few more images of Janis on Google, continually struck by how much she looks like Kathy and still trying to figure out why I'm suddenly so interested. I visit the official legacy website managed by Janis's family, follow a couple links, and read a chronology of her life events. And a date pops out at me. October 4, 1970: the date that Janis died, at 1:40 in the morning, from a heroin overdose. It occurs to me that that is tomorrow's date. Is that why I thought to grab Janis's CD this morning, because for some reason I am supposed to mark that occasion?
I glance back at the photo and this time the resemblance to Kathy is almost over-whelming. And I realize: if tomorrow is October 4, that means today is October 3. And October 3 is the day Kathy was born.
And so, while not a week has gone by since Kathy's death from cocaine overdose that I haven't thought of her, it occurs to me that perhaps Janis called me today to make sure I didn't forget my sister on her birthday. So while I'm taking a moment to acknowledge Kathy's short, tumultuous life, I'll also give a nod to her famous sister-in-spirit. I'll reflect for just a moment on the fact that 46 years ago today, a kid named Kathy was celebrating her 10th birthday and a singer named Janis was living her last day on Earth. And both were probably thinking that forever still stretched ahead.