Do you have sufficient arrogance?
Do you have sufficient arrogance?
I don't mean to ask, "Do you think you're better than everyone else?" What I mean is, do you know just how knowledgable you really are, and do you believe in the value of what you know?
Speaking from a business perspective, marketing blogger Scott Hartshorn years ago made the point that it's easy to assume that other people in your industry are better or smarter than you, and therefore more credible. And this assumption can keep you from putting yourself out there, getting known, taking risks, and reaping the rewards. 
I believe that this notion can be applied across the board: not just to Scott's industry of commercial blogging, but to work, family, parenting, hobbies, socializing and even community involvement.
More recently, moto-blogger Rachael (Fuzzygalore.com) noted that for many of us, there are two yous: Your You and Someone Else's You. And, that Someone Else's You is almost always "bigger and bolder" than Your You.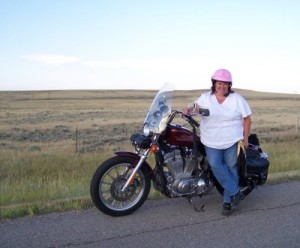 I think Scott & Rachael are saying the same thing – though in different words and from two different life perspectives: that we hold ourselves back from our true potential because we just don't think our experience and knowledge are as valuable as that of others. We believe, for whatever reason, that outsiders are the experts while we are just… us.
Having been a business owner, a Chamber of Commerce leader, the "new gal" for various employers, a first-time parent, a newbie motorcycle rider, and even a newbie blogger at various points in my life, I can relate to this concept of "insufficient arrogance" on many levels. So many times, I've realized (perhaps too late) that I didn't start out a new phase of my life or a project with the belief that what I brought to the table was just as good, if not better, than what other folks brought.
In short, I'm not sufficiently arrogant!
Or to put it in Rachael's terms, My Me is standing in the way.
Is this because I'm too dependent on the approval of others? On the notion of being liked? On the idea that what I know is somehow less valid than what others know? Am I – inconceivably – allowing the hard-won knowledge I've gained and the experiences I've had in life to hold me back me rather than propel me?
And the questions too painful to ponder: What has my insufficient arrogance cost me? What opportunities have I missed because My Me did not measure up? Am I not yet who I wish to be simply because I didn't think I was good enough to start?
I can tell you this: more and more, when I feel hesitant about a new idea, I am trying to take a conscious look at myself through the eyes of Someone Else's Me. Because yeah, she's bigger and bolder. She works harder than My Me. She puts herself out there. She owns the failures, and reaps the rewards.
And she ends up doing some pretty cool stuff.