Park for the exit: tips for parking your motorcycle
Look where you want to go.
Scan the road at least 12 seconds ahead.
Slow, Look, Press, Roll.
These are some of the best pieces of advice you'll hear for riding and controlling your motorcycle. One of the least-discussed aspects of riding, however, is what happens at the end of the ride: parking!
And, while it's tempting to simply cruise in to your destination and hop off the bike, it's far better to actually put some careful thought into your stoppage. Because quite honestly, how and where you park will determine the ease with which you eventually leave. So I've got one more piece of advice for you to consider:
Park for the exit.
What I mean is, park your bike with leaving – not arriving – in mind. Because truly, how you park your bike determines what challenges or problems you're going to have when it's time to leave. Here are some tips for smart parking.
Park level. Seriously, do yourself a favor and make this a top priority in parking your bike. Whenever you can, pick a level spot so you don't have to do a drastic lean to one side when preparing to leave.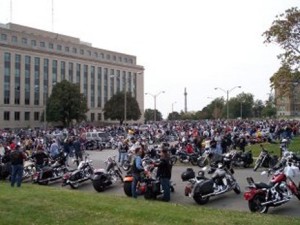 Park solid. Mud, gravel, and even hot-baked blacktop can cause your bike to sink where it sits, especially considering that all the weight of the bike is transferred to that tiny contact point at the end of your kickstand when you're parked. You can improve this situation by re-distributing the weight of the bike, using a parking disc or small piece of wood placed under the end of the stand.
Nose-out. Taking the time to park "nose out" has saved me many headaches when leaving a parking spot. What I do is pull into a parking lot, quickly scan to identify my target space, and then make a U-turn in front of it so I can back in – assuming, of course, that doing so leaves me level and solid. Where this really saves me is in a space where the parking spot slants downward toward the curb. If I'm nose-out, I don't have to try to back the bike out and up an incline.
Stick together. In a group, as the ride leader, I try to scope out an area big enough in the parking lot so that our entire group can park together. This ensures that we're more likely to be able to leave as a group and less likely to inadvertently leave someone behind.
Share a space. This is more of a courtesy shown to other vehicles. A single parking space is almost always big enough for two bikes, especially if one parks a little ahead of the other. If I'm at a very busy venue, I try to occupy as little space as possible if I can do so without compromising my parking safety or that of my spotmate. It might go without saying, but I don't actually put myself into a space with another bike if I don't know that person. I only share a space with my own riding companions.
Shut down, lock up. I have a shut-down procedure (and conversely, a start-up procedure) that I go through almost every time I get off the bike. This involves locking my ignition as well as my front forks, removing gear, etc. etc. Although it may seem a little OCD (or even overkill) to do things the same way each and every time, I've found that practicing a consistent shut-down sequence ensures that I won't miss performing a really critical task like… ahem… putting the kickstand down.
These are my tips for smart, safe parking. What else would you add to this list?