How did she get to be such a Rude Biker Chick?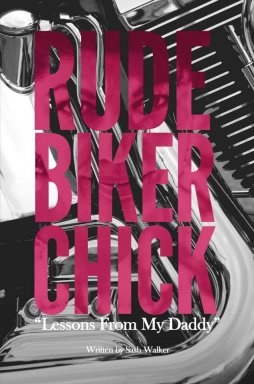 Y'all probably remember (because, come on, who can forget…?) my dear pal Tina "Sash" Walker and her husband, Steve "Highway" Johnson – they came to Iowa on their original Road Pickle journey in 2013 and I had the privilege of taking them around some of my favorite sights and roads. (Hey, the girl wanted to see Iowa CORN – what else could I do?)
Anyways, Tina has her own internet-based marketing/coaching business, numerous blogs, and an open book of a life that sometimes puts her in the hot seat but always keeps her memorable.
Hopefully, you already read her primary blog, Sashmouth, and follow her adventures on Facebook, Twitter, and Instagram. And if you do, you know her no-holds-barred personality. And you might have occasionally wondered just how she came to be – well – herself. In her latest e-book, Rude Biker Chick, you get the good, the bad, the ugly, and the beautiful about what drives this amazing, amusing, unforgettable lady.
Rude Biker Chick: Lessons From My Daddy is just as no-holds-barred as Tina herself. It ruthlessly covers her early life experiences with an abusive mother, a distant father, and a deep connection to traditional biker culture.
But she doesn't stop there, and believe me the book is not about pointing fingers for "who's to blame." Tina goes on to chronicle a disastrous first marriage, a more-than-brush with death itself, and the life-changing days that followed both as she rose from the rubble not to re-invent herself but to become who she really was all along.
Rude Biker Chick isn't rude at all – although that's what some people say about Tina. It's a raw, honest look at how one human being took all the crap from a life that wasn't hers… and turned it into something beautiful and right. This book is seriously fearless, and seriously worth every moment it takes to read it.