Chrome Divas ride to Prairie City
I am a little behind on my ride reports these days – what can I say… shiny objects distracted me! But I've had a few lovely rides and must share a bit about them!
A few years ago, Steve and I rode over to the Neil Smith National Wildlife Refuge with Garry, Shirley and Janet/Seven Over, but we didn't have much time to wander around. I've always wanted to go back and study the learning center a little more carefully, and the Chrome Divas were amenable when I mentioned it as a potential ride destination in late April.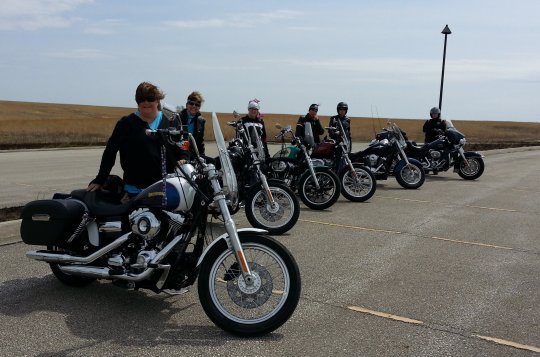 Our little chapter is now up to 12 members, though not everyone was able to attend the ride. Our day started with lunch at the Sugar Shack, a 50's-themed diner in the nearby community of Altoona. We tend to get a little silly whenever we gather, and it's always a round-robin of road stories and general fun conversation (hot dogs – why does everyone make fun of me for frequently ordering hot dogs? I mean, a good weiner is really hard to find, right?! Oh… wait.)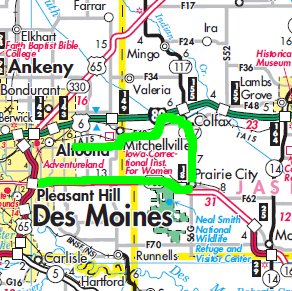 After lunch we headed off to the east along 8th St. SE in Altoona, which becomes County Road F48 heading toward Colfax, Lambs Grove and Newton. It eventually becomes old Highway 6 (the Grand Army of the Republic Highway), a classic east/west highway with lots of history, running through small towns with cool roadside attractions. I love F48 – there's a hillcrest before coming down into Colfax where the view opens up and you can see a patchwork of farmland for several miles laid out – the first time I saw this view, several years ago, it hit me: Iowa is a beautiful state! I've been an advocate for it ever since.
Anyway, into Colfax and south on Highway 117 to Prairie City – good thing it was a short hop (less than 10 miles) from here to our destination, because the wind was absolutely brutal along this stretch!
What I remembered most about our previous visit to the Wildlife Refuge (also a prairie restoration area) was the long and winding entrance road with prairie grasses waving gently on either side – it creates a beautiful and calming "whhhissshh – whhhissshh" sound as you ride through it.
What was evident the moment we arrived this time, however, was that this trip would not offer up the same experience. The area had recenly been subject to an apparent controlled/prescribed burn, so the entire landscape along the entrance road was charred and blackened.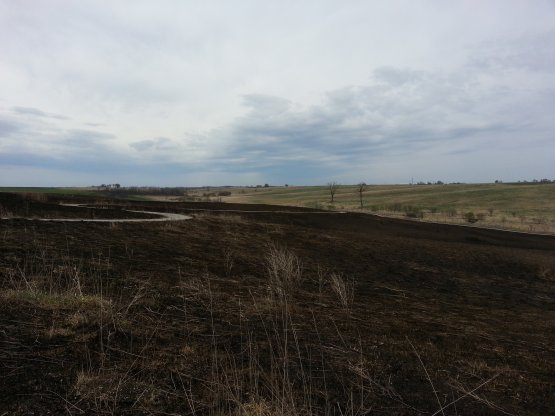 At first I was a bit disappointed and taken aback – but then I realized, in its own way this was beautiful too. And I knew, even before we learned more about the burn technique, that the burn had a purpose: to wipe out the invasive weed species and allow the native prairie plants to come back strengthened. Eventually we walked along a loop of the trail and could get a good look at the scope of the burn – several thousand acres, it turns out – and the Conservationist on duty in the learning center (along with a friendly volunteer named Larry) explained the process to us.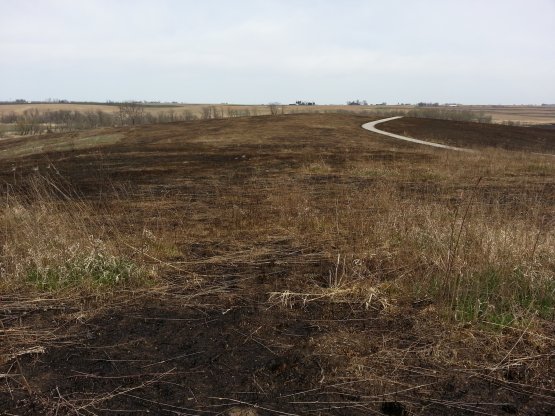 We also spent some time browsing in the gift shop. (A cute animal-identification book for kids called "Whose Butt?" set the tone for our shopping experience, much to Volunteer Larry's chagrin. He would be forced to endure our silliness for the next two hours.) We watched a short educational video about the history of the Iowa prairie and the development of the wildlife refuge, and spent some quality time looking at the various exhibits about the flora and fauna of the (restored) prairie.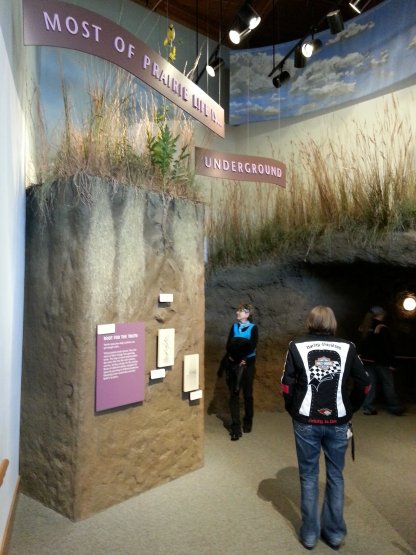 We also goaded poor Larry into posing with us for a group picture in front of the stuffed bison on display. I think (or at least I hope) he was happy to do so, especially considering that at least one of us made an actual purchase: Penney bought the cutest hat in the shop!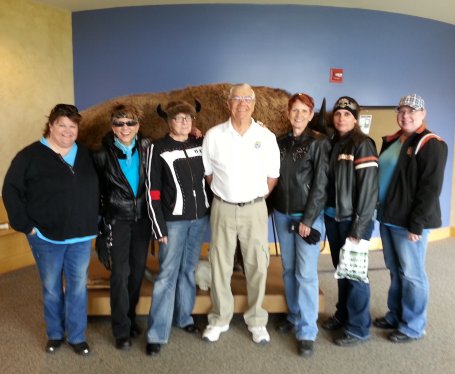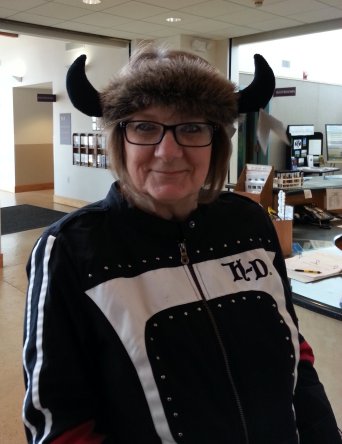 Thoroughly enjoyed this visit despite the lack of tall waving prairie grass, and we headed home late in the afternoon to the west along Highway 163. Going this direction, we had the tailwind so it was actually a very enjoyable ride back into Des Moines. We split off in various directions for home once we reached the eastern edge of town with our first chapter ride of the year now behind us.
With the chilly wet Spring we've had, it sure seemed a long time coming!