Ten years and counting!
In 2004, a number of really important things happened: Janet Jackson had a wardrobe malfunction; John Kerry (now Secretary of State) ran against incumbent George W. Bush for President; Martha Stewart began a five-month prison sentence, and…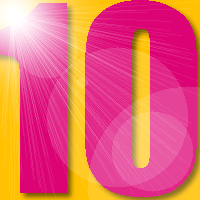 Biker Chick News was born!
That's right, 2014 marks the TENTH blogiversary of Biker Chick News! That's some pretty good staying-power, considering that a boatload of other blogs – motorcycle-related or otherwise – have come and gone over the years.
And while 10 is a pretty amazing number when it comes to blogiversaries, here are just a few MORE numbers that I find really interesting.
10 years
452 blog posts
1,054 comments
1,500 site visits in May 2006
49,032 site visits in January 2014
361,287 site visits in all of 2013
2,161 Fans on Facebook
As always, I want to say THANK YOU to everyone who reads this blog and/or shares their thoughts. I have a few fun things planned for the blog this year, and I hope you will stick around!