E-Book, 'Get On' coming October 25!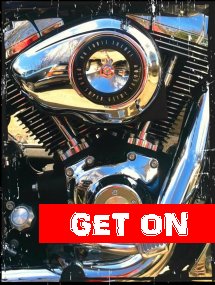 Friends, I've got a HUGE announcement to make:
I am publishing an e-book!
GET ON: A Guide to Riding Motorcycles for Women Who Think Too Much is a funny, informative, inspiring and affordable e-book for women who want to ride but are holding out because… well, probably for some of the same reasons I was holding out all those years ago.
But my new book will answer their lingering questions and give them the shove they need to twist that throttle on their own motorcycle!
Questions such as:
What do I need to get started riding? 
What's the best way to learn to ride? 
Which motorcycle should be my first? 
How am I going to stay safe on my bike?
How do I find people to ride with me?
GET ON will be available beginning Friday, October 25 for Amazon Kindle and as a direct-download PDF document. A Nook edition is also planned, as well as a direct-download EPUB file for e-readers such as Calibre.
I can't wait to hear what you think of it!