Riding the cypress bottoms of southern Mississippi
Editor's note: I love hearing from other riders who are passionate about their favorite ride routes, especially when they're in a completely different part of the country than me! This article was sent to me by Kathy Wilkinson, co-owner of Eco Tours of South Mississippi in Gautier, MS. Kathy's company will lead you on a guided kayak or motorboat tour of the cypress swamps and salt marshes of her beautiful state. My thanks to Kathy for sharing her little piece of the USA with all of us! 
Article & photos by Kathy Wilkinson
As the operator of a tourist attraction, I try to make the most of what little free time I get. Some weekends between tours, my husband and I get the opportunity to ride–he on his Yamaha Road Star, and I on my Suzuki Boulevard M50. One of our favorite short trips is a little loop that starts in our tiny town of Gautier on the Mississippi Gulf Coast and winds through the Pascagoula River swamp.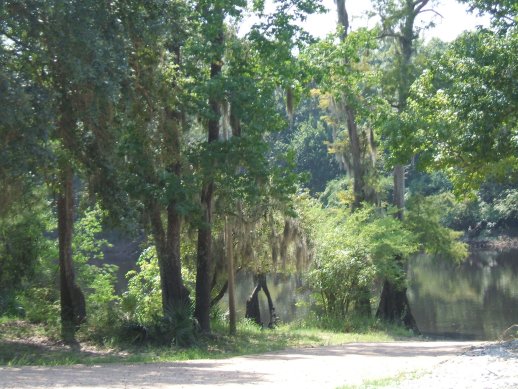 Heading east on U.S. Highway 90, we cross the Alabama state line, and pick up Route 188 (Alabama Grand Bay-Wilmer Road/Newman Road) in Grand Bay. This is designated as a National Scenic By-way. We head north through the farms, horse ranches and pecan orchards of Grand Bay and west Mobile, until we reach Airport Boulevard. As we cruise west to Mississippi, where the road turns into Highway 614, we cross the Escatawpa River at Brown's Bridge, and make our way past Hurley and over to the Wade-Vancleave Road.
We meander through the beautiful cypress bottom lands of the Pascagoula River. If the river happens to be flooding, there will be high water up to, and sometimes over the roadway in places–it's really cool seeing the swamp in a flood. Bridges cross Parker's Lake, Black Lake, and finally the unique and pristine Pascagoula River. This river is the last large (by volume) unimpeded river in the lower 48 states–that is, no dams, levees or flood controls.
It's only about 80 miles long from where it starts at the confluence of the Leaf and Chickasawhay Rivers to where it meets the Mississippi Sound, but its watershed is about a third of the state of Mississippi.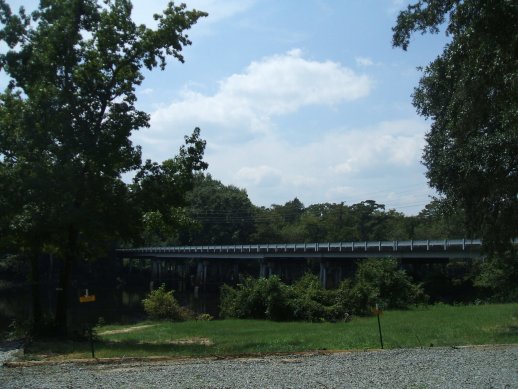 Not long after crossing the Wade-Vancleave Bridge, we turn south onto Old River Road until we reach Mississippi Highway 57. Old River Road is shaded by ancient live oaks. It's a little twisty in places and has great scenery/local color, but is an easy ride.
Old River Road eventually merges into Poticaw Bayou Road which runs into Highway 57. We head south on 57 through the unincorporated area of Vancleave. (Vancleave has seen tremendous growth since Hurricane Katrina, and even has a couple of traffic lights. Since the area is unincorporated, the sheriff's department has jurisdiction, and in Mississippi, the sheriff cannot use radar.)
Depending on our time constraints and the time of day, after passing through "downtown" Vancleave, we have the choice of returning home via Gautier-Vancleave Road or continuing our adventure with a meal at The Shed. The Shed, located on Highway 57 just north of I-10, has gained some national exposure having been featured on Food Network shows Up in Smoke; Diners, Drive-ins and Dives; and, most recently, its own reality show, The Shed.
It's an eclectic place on the bayou that is dedicated to good barbecue and great blues. (As one would expect from a barbeque joint, The Shed's menu is for carnivores. If you're a vegetarian like me, the menu options are very limited, but it's still a fun place to visit with lots of character and tons of local color!)
Leaving The Shed, we head south on 57 to U.S. Highway 90, hang a left and it's a straight shot back into the little City of Gautier. The ride is about 80 miles and passes through some of the most beautiful countryside that south Mississippi has to offer.
After our ride, I usually park the bike, stow my biker gear, don my boating gear, and then it's back to the Pascagoula River swamp with a motorboat load of folks from Anywhere, USA!
And here's a special insider tip for those hoping to enjoy the roads in southern Mississippi: If you come here to ride in late spring and late summer/early fall, beware the "love bug." They're harmless in terms of biting/stinging, but, because they swarm when they mate, they will end up spattered in pairs all over your windshield, your pants, your gloves and your helmet. Removing them as soon as possible is crucial, as their bodies are acidic and they can damage your equipment if left too long. White vinegar and water, mixed 1:1, works well to remove the residue!