On the other hand… riding solo part 2
Editor's note: I was really interested to read all the comments about my piece on riding solo, both here on the blog and over on the Facebook page. Interesting points made on both sides of the question! Michelle Landry of Tylertown, MS sent me this wonderful accounting of her initial solo riding experiences, and I wanted to be sure to share it with you so I asked her to send some pictures too! This is kind of the "other side" of the story – what happens when you step wayyy outside your comfort zone, and make something great happen!
by Michelle Landry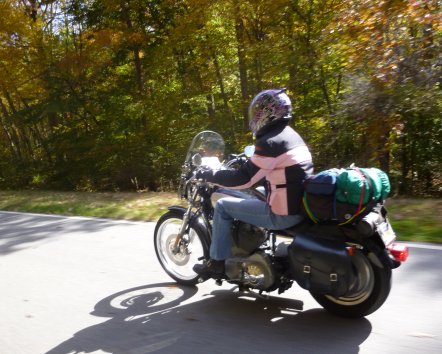 After years of talking about bike trips that my husband and I wanted to take, I realized our work schedules were going to keep us from ever going together.
That was when I started thinking about taking a solo trip: Stay at home and keep waiting or stretch my wings and find out if I had it in me to have an adventure alone. Needless to say, my husband was skeptical that I would actually do it and was also concerned for my safety.
I researched different routes and finally decided on the Natchez Trace. I would never be more than 500 miles from home, no commercial traffic or red lights, and plenty of history and sights on The Trace. I spent the next several weeks packing, planning, and getting my bike ready. The morning of my trip I had butterflies from nerves and excitement.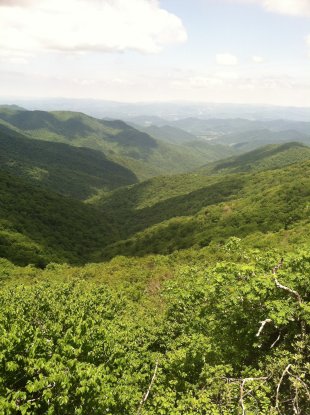 I spent the next five days and 1100 miles riding the Natchez Trace solo. I rode a few hundred miles each day and camped or stayed in a motel at night. I even met another woman riding the Trace solo! We ended up riding together a couple of days and had such a good time we decided to plan a trip together, so this past June I rode 800 miles to Tennessee where I met my new friend!
We spent the next few days riding the entire length of the Blue Ridge Parkway. We don't have switchbacks or mountain roads where I'm from so this was really something new for me. It definitely challenged me and my biking skills but we had a great time. And we met another woman riding solo! This time I spent 2 weeks on the road and rode more than 2500 miles, over half of the miles alone.
What if? What if your cell phone charger breaks and your family can't reach you? You pack a wall charger just in case and use it when you get to a motel. What if your bike breaks down 800 miles from home . . . in a rainstorm? You call Geico or whatever towing service you made sure to get and have it towed to a garage to get it fixed. And be thankful you put everything in Ziploc bags. What if you have a minor accident on the bike? You make sure you're ok and then use duct tape and super glue to fix a broken signal light.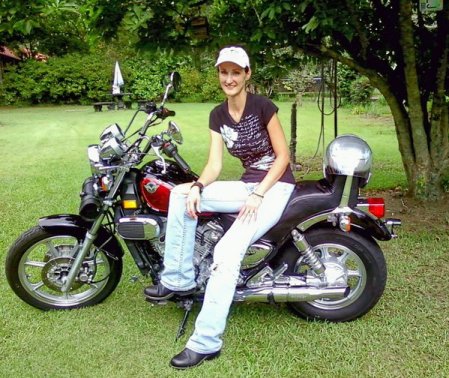 I've had a lot of what-if's happen but I've also had incredible experiences out on the road alone. I've ridden some beautiful roads and seen some gorgeous scenery. I've also met some really great people. When you ride in a group, other bikers will talk to you, but when you're a female riding alone, everyone talks to you. Safety is always my number one concern and I have left places because I didn't feel comfortable. You really need to listen to that inner voice. And riding alone gives you a good chance to hear her.
Each trip has left me feeling more empowered. Stronger. I've met obstacles and dealt with them. Yes, I would love to take a bike trip with my husband. Yes, we would have a wonderful time. But that doesn't mean I can't have a wonderful time riding alone. I've discovered I'm not such bad company!