Struthers Bros.: Best Motorcycle Shop, and dinner rides!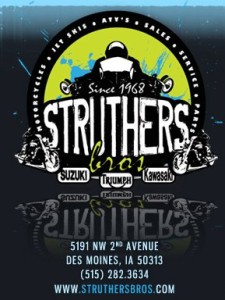 Just a quick post to say congratulations to Struthers Brothers Kawasaki Suzuki Triumph at 5191 NW 2nd Ave., for being voted Best Motorcycle Shop in Des Moines in a recent poll conducted by Cityview! In addition to carrying a variety of motorcycle brands, Struthers Bros. also carries apparel, parts and gear, and has an extensive selection of pre-owned bikes of many makes and models. They also carry Midland USA communication and helmet-cam equipment. 

Struthers also hosts dinner rides throughout the riding season. Remaining dates and locations are:

Saturday August 10– Dinner Ride to Checkerboard in Pleasantville
Saturday August 24– Dinner Ride to Community Tap in Fort Dodge
Saturday September 7– Dinner Ride to Country House in Colo
All dinner rides leave promptly at 4:30 pm from the Struthers Bros. parking lot.
The dealership is also hosting the Ride Against Diabetes on Sunday August 25 from 12:30 pm – 3:30 pm. Cost is $25 per person. Click here for the flyer shared on their Facebook page! While you're at it, be sure to "Like" Struthers Brothers on Facebook and visit their website at www.struthersbros.com.