Why I ride, part 4: Because I CAN!
Also in this series:
Part One – The Telephone Booth
Part Two – The Honda Express
Part Three – A Sickly Bleating
By the end of my first season of riding, I was off to a great start. So great, in fact, that when Season 2 dawned in 2003 I was bitten hard by the "new bike bug." Somehow, with my license in hand, the commuter/learner bike just wasn't doing much for me anymore.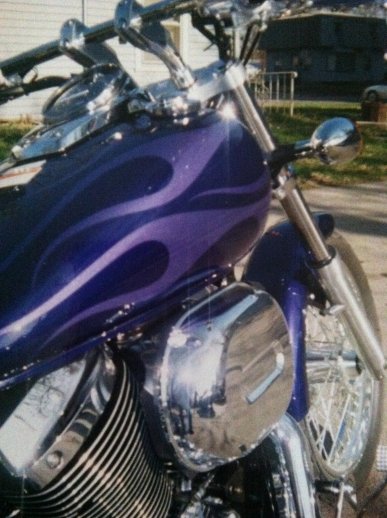 Besides, I wanted to take some real highway trips and the shuggity-shuggity-shuggity of the 250 was never going to cut it for anything other than trips "up around the lake." I sold it to our neighbor who was, oddly enough, a motorcycle licensing examiner for the DOT.
Cash in hand, I began my search for a new bike. I visited dealerships for Harley, Honda, Suzuki and Yamaha, and was pleasantly surprised at the number of bikes that fit me well despite my short stature: the Suzuki Intruder 800, Yamaha V-Star 650, Honda Shadow Spirit 750 and VLX 600 were all serious contenders.
The bike that really spoke to me was the VLX 600. It felt completely right as I sat on it in the showroom. Steve, however, nudged me toward the 750 Shadow Spirit – he feared I would quickly outgrow the 600 since it was only a 4-speed, and besides, the purple-with-ghost-flames paint scheme on the 750 was gorgeous.
So I bought the 750, and had no problem getting used to it. In fact I quickly came to appreciate the additional power. On the downside, the stock seat was awful and there wasn't much in the way of after-market accessories. Steve kept saying this was because it was already designed to look like a custom "boulevard cruiser," so the accessories were already there. What I wanted, though, wasn't chrome and bling – I just wanted a backrest and saddlebags, both of which I felt were essential for going any distance. There just didn't seem to be anything designed for this bike.
I did eventually add some Vance & Hines exhaust pipes, a Memphis Slims windshield, and a set of Kuryakyn ISO grips for the handlebars – all great additions to the bike.
Unfortunately, my first season with this bike quickly took a downturn.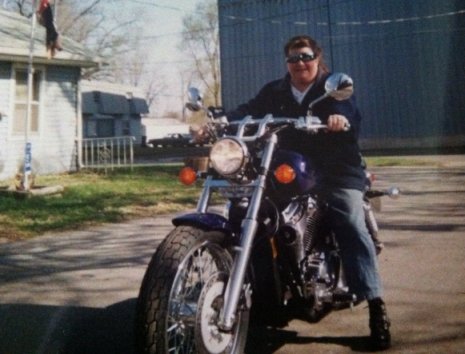 One day, while riding up around the lake, I came to a stop at a stop sign. I looked both directions and started to pull out on my right-hand turn, then changed my mind as I thought an oncoming car from my left was approaching too quickly for both Steve and I to get through the intersection. I applied the brake, and dropped the bike.
I didn't even so much drop it as it just sort of leaned over and I was left standing over it, feet planted on either side.
"What happened?" Steve tried to question me as we righted the bike.
But I didn't know. I just knew I'd changed my mind about the turn, and dropped the bike.
We pressed on – I considered the drop a fluke and felt lucky that I hadn't done any serious damage – and enjoyed the day.
A couple weeks later, on the next ride, we were headed up to the gathering point for a large group ride – a major first for me. This time, at a stop just a block from home and pulling out to turn left, I dropped the bike again.
Again, not much damage except to my pride. Still, I was spooked. So much so that by the time we arrived at the gathering point, I was convinced there was no way I could complete that ride. I told Steve, "I've got no business endangering other people when I can't keep my bike upright."
We rode back home. I was terrified every time a left-hand turn was needed and paranoid that the bike was going to go down yet again. This was June, early in the season.
It's almost unfathomable to me now that I let that beautiful bike sit an entire season without riding it, but it's true: I didn't ride again all year.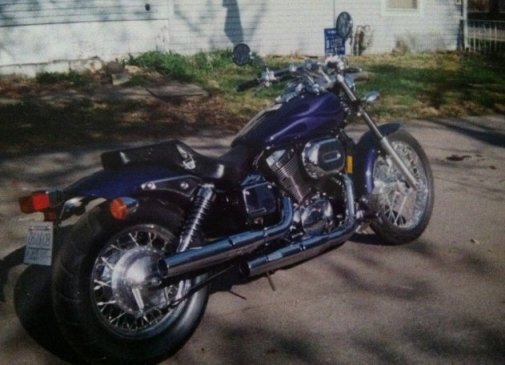 During that season, I spent a lot of time feeling like a phony. Wanting to ride, but terrified that I would drop my bike again. It was actually a relief when winter came around  – at least I didn't feel guilty for not riding anymore.
Of course, like it always does, winter eventually changed into Spring and I started to get a nagging feeling: I should either ride the bike, or sell it, but it was stupid to just let it sit in the garage.
I had spent a lot of time over the winter reading "how to ride" articles and watching videos online, trying to find a clue as to what I'd done wrong. It finally dawned on me that probably what had happened was that in my haste to get whoa'd after changing my mind about the turn I was making, I applied the front brake with my handlebars turned.
Everything I read – and Steve confirmed – that if you have the bars turned, it transfers the bike's weight to that side and makes the bike top-heavy. And if you apply the front brake with those bars turned, you'll drop the bike in the direction the bars are turned.
I also learned another potentially fatal mistake I was making when turning: I was staring at opposite curbs rather than looking where I wanted to go. The secret to a turn, it turns out, is three-fold: look where you want to go. Don't be afraid to goose the throttle if you're pulling away too slowly and wobbling. And don't apply the front brake with the handlebars turned.
I should point out that, had I taken an introductory riders' course at the local community college, I would have known these things from the start.
At any rate, I finally felt like I knew what I'd done wrong, but I didn't have much confidence in my ability to learn to do it differently. There came a day, though, when I decided it was time to try.
It was like starting back at square one: Steve rode the bike up to the school parking lot, and I drove the car – so afraid was I to ride this bike. Our daughter, Stephanie, accompanied us, just as she had done back in Season One.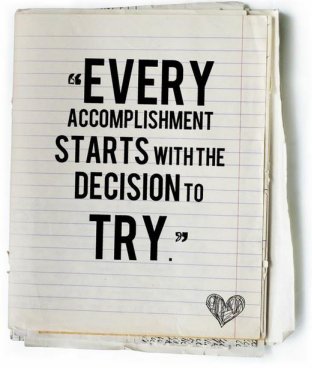 I remember straddling the bike and lifting it up off the stand. Turned the key on, put it in neutral, and pulled in the clutch. Pushed the start button and felt it rumble. I loved that sound. But I was terrified. I couldn't move. I really did not think I could do it. Tears rolled down my cheeks.
"If you want to go home, we'll go home," Steve said after several minutes.
In the space of about 60 seconds, a couple of things happened. First, I made a conscious effort to talk to myself. It went something like this:
"Self, you can do this. You have proven you can do this – you have a license that says you can do this. You've already ridden several hundred miles. Now all you have to do, is put the bike in gear and roll forward. Just roll forward, then make a turn. If you don't, you are going to sell the bike, and you'll no longer be that smart, sassy Rebel Biker Mom."
And while I was talking to myself, I happened to look over at my daughter, who was sitting on the curb and poking a stick around in the dirt. Content, at least for the moment, to spend her Saturday watching me go in circles in the parking lot.
That's when I wondered: What does she learn if I give up? And, what do I want to teach her about how you handle things that are difficult?
I took a big sniffle through my snotty nose and said, out loud, "I can do this."
"What?" Steve called out over the rumble of the bike.
"I'm going to do this," I said a little louder.
And so I did.
I put the bike into gear, and rolled forward. And when it came time to turn, I did that too. I went round and round in countless ovals. I practiced tight turns to the right, tight turns to the left, going in circles, shifting up and shifting down… over and over again until my family was bored silly.
Then I took off for a short ride up around the lake, and when I got home I knew that Rebel Biker Mom was here to stay.
Coming next: Why I Ride, Part Five – Epilogue