Digital technology gives bikers prescription wrap-around sunglasses
Editor's note: Although I don't wear prescription eyewear (yet!), I'm sure many of you probably do. I hope this guest post from Michael Spanjol at ADS Sports Eyewear will be encouraging – it sounds like  the technology for wrap-around prescription sunglasses is really improving. This is a compensated post. 
by Michael Spanjol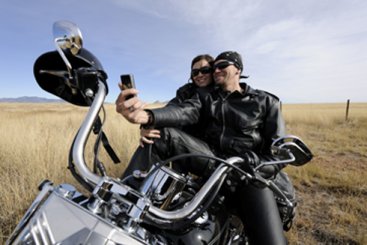 Prescription Motorcycle Sunglasses are now available with Free-Form Digital lenses that dramatically enhance a wearer's field of vision and overall optical clarity. This is one of the biggest advancements in eyewear technology ever. In the past, if you tried putting your prescription into a pair of sunglasses that 'wrap' around your face, you would experience a disorienting peripheral distortion known as the "fishbowl" effect. This effect renders the sunglasses useless and is the result of using traditional lens technology that is meant for flat lenses. People who have tried wearing contacts under sunglasses know that they can dry out easily and become a dangerous distraction at times. These problems have been solved with the development of new Free-Form Digitally Surfaced Lenses.
In a free-form digitally surfaced lens the curve is recalculated at every point on the lens. This is helpful in everyday eyewear, but it is critical in the wrapped frames worn by motorcyclists because you do not want a blurred peripheral view or blind spot when you are navigating traffic; it is just too dangerous to be without the sharpest vision available for your peripheral views. A traditional prescription in a wrapped frame will fail you where a Free-Form lens could save your life. Contact lenses can be an irritant in high wind activities making them pale in comparison to the versatility and durability of free-form lenses which can be made Single Vision or Progressive (no line bifocals).
The free-form digital lenses for Motorcycle Sunglasses can be made with one of the two acceptable lens materials for motorcycling and fitted into almost any frame by any brand. The two acceptable shatter-proof materials are Polycarbonate and Trivex. Polycarbonate is the most popular lens material in sports sunglasses. Trivex was developed by the US military as an improvement on Polycarbonate. A version of polarized Trivex, known as SR- 91, costs about 50% more than polycarbonate, but the optics and durability are state-of-the-art. Polycarbonate and Trivex can be tinted to any color, can be polarized, or can feature a transitions lens film. There are no good options that are both polarized and transitions at this time.
Prescription Oakley Sunglasses are now a major player in the Free-Form Motorcycle Sunglasses ring with the recent popularity of their Wind Jacket model. The Wind Jacket features a removable eye seal and very easily exchangeable lenses for those that want more versatility out of their riding sunglasses.
Free-Form Digital prescription lenses for motorcycle sunglasses are a huge step in the right direction when talking about optical clarity and overall safety for motorcyclists. What once took a head-turn to see now only requires a glance.
ADS Sports Eyewear has been selling prescription motorcycle sunglasses and other sport sunglasses for over 10 years. The owner is an avid motorcyclist and certified optician who has performed unbiased testing on motorcycle sunglasses and lens technologies and has trained his staff thoroughly on these topics. They will happily answer all questions you might have on selecting the right pair of shades for any activity.