Tickets now available for Iowa Grand Motorcycle Rally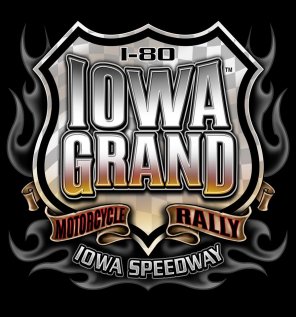 Straight from the iron horse's mouth, folks – here's a news release I received March 5 from the Iowa Grand Motorcycle Rally, May 30 thru June 2 in Newton, Iowa!
Officials at Iowa Speedway announced that tickets to the 2nd Annual 'Iowa Grand Motorcycle Rally', slated for Thursday, May 30 through Sunday, June 2 at the Newton facility, are available for purchase.
Responding to numerous inquiries from Iowa motorcycle enthusiasts, Iowa Speedway Director of Ticketing Operations Jason Christofferson has placed the event on the track's Ticketmaster system, and ticket orders may now be placed through the speedway Ticket Office.
"We are pleased to offer our customers the opportunity to buy Iowa Grand Rally tickets in advance this year," Christofferson said. "With the line-up of entertainment we have on tap, and the enthusiasm I've heard about our new dates this year, I anticipate a very big crowd will be on hand for our second annual Rally. And we look forward to announcing our music acts in the very near future."
Individual ticket prices for the 2013 Iowa Grand Motorcycle Rally are $20 for Friday, May 31 ($25 with a rider), and $25 for Saturday, June 1 ($30 with a rider). Two-day tickets are available for $40, or $50 with a rider, while the Thursday and Sunday activities are free and do not require a ticket.
Tent camping is free in designated areas, while RV's are $50 per site with no utility hook-ups, and $150 with water/electric included, for the four days. Vendor spaces are still available, starting at $200 for a 10' X 10' area, as well as many advertising and sponsorship opportunities for businesses catering to the motorcycle marketplace.
"With the return of 'Sons of Anarchy' star Charlie Hunnam for another meet and greet with rally-goers, the 'Wall of Death' experience, body painting, amateur talent contests, vendors, displays and lots of good music, we think this year's Iowa Grand Rally is going to be nothing but fun," said Luke Clement, Director of Track Services and Rally Coordinator for Iowa Speedway. "This isn't a 'motorsports' event; it's about celebrating the lifestyle of bikes and bikers, and a place where even people who don't ride can come out, relax, and let their hair down."
Tickets and camp sites for the 2nd Annual 'Iowa Grand Motorcycle Rally' are available online at www.iowaspeedway.com and www.iowagrandrally.com, or by calling the toll-free ticketing hotline at 866-RUSTY-GO (787-8946). Patrons may also visit the Iowa Speedway Ticket Office to purchase Rally tickets, located at 3333 Rusty Wallace Drive in Newton.
Additional information about the 2nd Annual 'Iowa Grand Motorcycle Rally' may be accessed on the Rally's official website, www.iowagrandrally.com, or on Facebook at www.facebook.com/iowagrandmotorcyclerally. Vendors and potential advertisers may reach Iowa Grand Rally Coordinator, Sabrina White, at swhite@iowaspeedway.com for details.
Iowa Speedway is a state-of-the-art 7/8 mile asphalt paved tri-oval race track and motorsports facility located just 30 miles east of Des Moines at I-80 Exit 168 in Newton, Iowa. The track is owned and operated by U.S. Motorsport Corporation and designed by NASCAR Hall of Famer Rusty Wallace, now an anchor and analyst for ABC-TV/ESPN. Call 1-866-RUSTY-GO, or visit www.iowaspeedway.com to learn more.