Spring is almost here!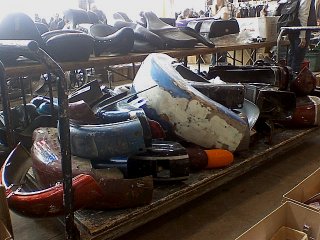 This weekend, Feb. 16-17, marks the "corner" we turn in Iowa as riders when we say, "I think we've turned a corner and Spring is on its way."
And no, it's not the Girl's State High School Basketball Tournament, which I swear is like a religious experience around here (GO DES MOINES ROOSEVELT, 4A!)… no, it's even better: it's motorcycle swap meet weekend!
It's the weekend where we wake up, take a stretch, look in the mirror and go, "Holy CRAP – what the hell happened to you?" And then we venture over to the Iowa State Fairgrounds so we can pay $10 to get in to the 4H Building and look around at bike-related junk for sale (isn't this kind of like paying the people at McDonalds just to look at the menu?) and give a big hi-dee-ho to all the folks we haven't seen all winter.
I am really looking forward to it and plan to take a zillion pictures – which of course I will share with you all!
Speaking of getting in the mood for a ride, here's something else that caught my attention this week: a short, simple video made by my friend Tim, who recorded a ride last Fall around Madison County and posted a wee bit of it on Facebook and YouTube. Yes, I know it's just a video of Tim cruising down Highway 169 toward my favorite Iowa small town… but you have no idea how much this video – AND the sunny 50-degree day we had on Wednesday – made me want to ride!
Here is a link to Tim's Youtube channel, just for good measure… in case you want to check out a couple more riding videos and/or videos of "puppy play time" with Bertha the Biker Dog!
Okay yes I'm rambling a bit… I've had a little too much Valentine's Day chocolate, and I'll be crashing from my sugar high very shortly. So… enjoy your weekend, I'll see you on the "other side" of the swap meet!
More soon!