Chrome Divas come to Des Moines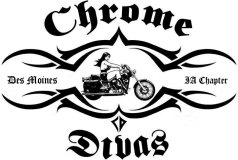 I've been keeping this under my helmet for awhile, but am so excited to finally be able to mention that the CHROME DIVAS have come to Des Moines – and that I am a founding member!
While poking around on the Web one night last summer I did some reading about this organization for women motorcycle enthusiasts, founded in 2002. I was surprised to learn that although there was a very large and active chapter in the Cedar Rapids area, there was not yet a chapter here in Des Moines.
So, together with my gal pals Shirley, Susan (Coyote) and Stephanie (Iowa Harley Girl), we launched the Chrome Divas of Des Moines in August 2011. We've added two additional members since then – Janet ("Seven Over") and Penney ("One Cent").
The Chrome Divas is simply an organization for women who share a passion for motorcycles – all brands, all levels of riding. We currently meet monthly, and we'll be creating opportunities to ride together and work on behalf of some our favorite community organizations. Our primary mission is four-fold:
Promote a positive image of women who ride, and of motorcycling in general.
Provide a social atmosphere for women who ride or simply love motorcycles to gather and get to know each other.
Give back to our community by participating in local non-profit events and activities.
Ride and have fun!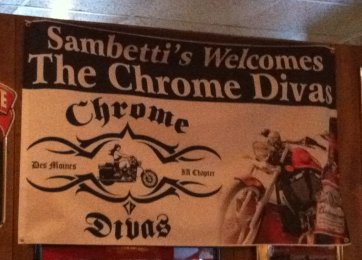 We're lucky and thankful to have Sambetti's, a local bar and grill, as the "official home of the Chrome Divas of Des Moines." A big THANK YOU to Paul Strome, owner of Sambetti's, for his encouragement and support of our little group!  (I personally recommend the "10 oz top" special, the chicken strips, the house dressing on the crisp, cold salads, and – OMG – the ONION RINGS!! Lunch, dinner or drinks – Sambetti's is one of my favorite spots in Des Moines!)
As for membership, right now we're keeping growth slow and purposeful so as not to get too big too fast, but we are excited about being part of this great organization and are definitely planning to increase our numbers!