NVAR ride honors, remembers veterans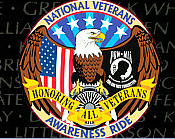 Here's a great opportunity to honor veterans and participate in a unique tribute ride. The annual National Veterans Awareness Ride (NVAR) starts in Auburn, California on May 15 and concludes on Sunday, May 27 in Washington, D.C. It's a full agenda of greeting veterans at VA hospitals, conducting wreath-laying ceremonies at veterans' cemeteries, and celebrating the legacy of veterans at sites across the country. The ride is conducted each year by the National Veterans Awareness Organization, a non-profit organization started in 2005 to honor all veterans.
The NVAR ride passes through Iowa on Sunday and Monday, May 20-21, with stops in Council Bluffs, the Freedom Rock at Greenfield, Van Meter, Des Moines, Marshalltown, Iowa City, and Davenport.
Visit the full NVAR website at www.nvar.us for a complete ride schedule