This and that – April update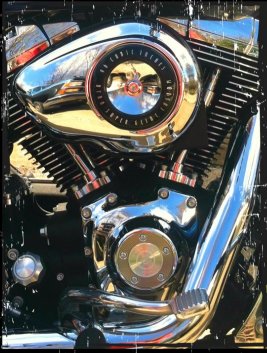 What a crazy Spring! We had a very mild winter here in Iowa, with very little snow and unseasonably warm temps throughout the season. Now in April, though, things have cooled off and I suppose with temps in the 50's and frequent rain we are back to what's normal for this time of year. This has been frustrating – it was great to take a few short jaunts back in March, but these days it seems the weather is not really cooperating. We did take a nice scenic loop down to Winterset and back a few weeks ago, and attended the Christian Motorcycle Association chili feed up at Big Barn is mid-April. But we did not ride up for the bike blessing that accompanied the chili feed. We will have to try again to get blessed on May 12, down at Route 65 HD in Indianola.
Also, the first Indianola Bike Night has come and gone – it didn't get canceled, but we didn't attend due to the cool temperatures. (If anyone ever calls me a wimp over these decisions, I always respond with: "Hey, I rode to Sturgis and back on an 883 Sportster, so… ha!") Attendance was light, I'm told, but no less enthusiastic.
All this falls into the category of "just as well," anyway, because we are in the midst of "Senior Year" here in our household and our non-riding life is quite busy right now. Yes, my beautiful daughter is about to graduate high school, so it's going to be a tearful (and joyful) six months as she passes this milestone and heads off to college.
Finally, a couple quick shout-outs to my gal pals… Shirley – welcome home! Shirley and Garry are back from wintering in Texas, though I'm not sure we didn't have nearly-comparable weather here this year. And Janet – congratulations! Janet successfully completed her 4th Dan test in TaeKwonDo, following a rigorous training period to which her commitment was just as impressive as her outstanding performance in the test itself.