2012 Des Moines, Iowa and National bike events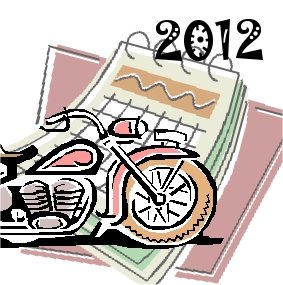 Can't believe we made it to mid-January before getting ANY measurable snow here in central Iowa! We've even had a couple of days in the upper 50's – more than nice enough to ride, but alas, I wasn't able to enjoy them. At least, not on the motorcycle. And, even though it's currently bitter-cold, the mild weather we've had up to this point has made the off-season infinitely more bearable.
Anyway, thought it was time to start working up the 2012 calendar of local, statewide, and a few national events. There are some missing from this list that I know are out there somewhere, but their websites haven't been  updated with 2012 dates yet. I'll be on the lookout for those and will add them later with a link back here.
Meanwhile, if you know of something in Des Moines, in Iowa, or in the mid-west, let me know in the comments!
Gathering on the Grounds Mid-Winter Bash – January 28, Des Moines IA
Capital City Custom Bike Show & Swap Meet – February 11-12, Des Moines IA
Daytona Bike Week – March 9-18, Daytona Beach FL
Indianola Bike Night – Third Friday of the month, April 20 thru September 21, Indianola IA
ABATE/CMA Blessing of the Bikes – April date TBA
Gathering on the Grounds – Tuesdays throughout the summer (start date TBA)
Mississippi River Motorcycle Rally – June 13-16, Davenport IA
Iowa State HOG Rally – June 14-16, Des Moines IA
J&P Cycles Open House – June 23-24, Anamosa IA
ABATE Iowa State Freedom Rally – July 5-7, Algona IA
Sturgis Rally – August 6-12, Sturgis SD
Iowa State Fair Motorcycle Day – August 19, Des Moines IA
Warriors Across Iowa Benefit Rally – August 25, Oskaloosa IA
Bikes Blues & BBQ – September 26-29, Fayetteville AR
Biketoberfest – October 18-21, Daytona Beach SD