The Dignity Memorial Wall Experience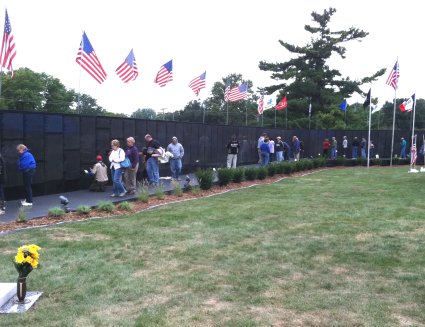 This past Saturday we took some time to visit a unique site that has some significance for our family. The Dignity Memorial Vietnam Wall Experience is a traveling three-quarter-scale replica of the Vietnam Veterans Memorial in Washington, D.C., and it was recently installed at Resthaven Cemetery here in the Des Moines area. Since 1990, the traveling Wall has been displayed in more than 200 U.S. cities, and has hosted millions of visitors.
My husband, who is 12 years older than me, is a former U.S. Marine and a veteran of Vietnam. It has had a lifelong impact on him. I respect him a lot for the service he voluntarily gave, and for the nagging physical and emotional effects he deals with on a daily basis. Sadly, it has only been relatively recently that he has been able to see his service as something to be proud of – for far too long, this generation of veterans was maligned by this country's shameful inability to separate its hatred of the war itself from the courageous men and women who served in it. (When people talk about The Wall in D.C. having healing powers, that's the reason: perhaps
these veterans could not get aid and comfort from those they returned home to, but many have found it when surrounded by granite slabs filled with the names of the men they served with.)
Because the official memorial in D.C. is so meaningful for those who served, the Dignity Memorial Wall was developed by Dignity Memorial – a nationwide provider of funeral, cremation and cemetery services – to provide a potentially healing experience for those who might never have the opportunity to visit The Wall itself.
The installation at Resthaven ran from September 16-18, was open 24 hours a day and was free to visit and view. (See the full 2011 tour schedule, and be sure to look for the 2012 schedule in the near future.)
Here in Des Moines, the American Legion Riders, Patriot Guard Riders, Iron Warriors, Vietnam Vets MC, and other bikers provided an escort for the Dignity Memorial on September 14 from Prairie Meadows Racetrack & Casino to Resthaven Cemetery. The American Legion Riders were on hand throughout the weekend to help visitors understand not only the Wall replica, but also the accompanying Battlefield Memorial or "Soldiers Cross." Several groups participated in scheduled ceremonies throughout the weekend.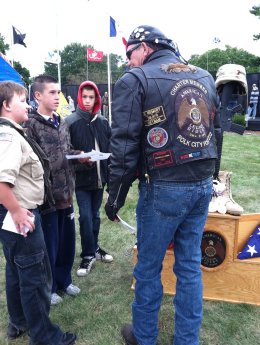 As the wife of a Vietnam veteran, and as an American who is grateful for the opportunity to reflect on the sacrifices made by those who served in that war, I would like to say thank you to Dignity Memorial for such an outstanding project, to the riding groups that escorted it to its installation, and to the sponsors who made it possible.

Sponsors: Prairie Meadow, Perficut Lawn & Landscape, Contractors Rental, HyVee Food Stores, Pepsi America, Sammons Financial Group, HR Green Engineering, Golf Cars of Iowa, Ziegler Power Systems, HCI Care Services, Freeman Decorating, Matthews Bronze, Watts Vault & Monuments, Created in Johnston, Wolf Construction, Best Portable Toilets, Computers in Motion, Willis Auto Campus, Bob Brown Chevrolet, Electronic Engineering, Pearson Bollman Law, FastSigns, Pratt Audio Video, Heartland Custom Flags, Boy Scout Troop 111 of Grimes, Boy Scout Troops 9, 13 and 217 of Des Moines, Competitive Edge, True Value Hardware, Felix & Oscars, Big Barn Harley Davidson, Iron Hearse Destinations, Barton Solvents, Dr. Scott Neff, Polk County Sheriff, Quality Resource Group, Polk County Recorder, Iowa National Guard, Target, Lowe's, Action Print, General Fire Safety, Doves of Love, J.R. Wagner.