Here and there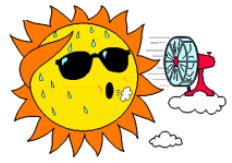 Once again, the month of July has been brutal for us, weather-wise… temperatures in the mid- to upper-90's, with the heat index pushing us up into the 100's and even 110's for about the past three weeks. It's deceiving to sit inside in the air conditioning (thank God for air conditioning, and for the funds to pay the electric bill) and look out at the sunshine, because when you step outside it's like a heavy, hot blanket gets draped over you – close and suffocating. And "being in the wind" isn't much better when it feels like a blast furnace.
Keep in mind, I'm not complaining. I'd much rather have a month – even two – of heat and humidity than a winter filled with ice, snow, and bitter cold.
At any rate, I admit I haven't been out on the bike much these past few weeks. We did get to go to Indianola Bike Night back in mid-July; that was a great evening, as I finally got to meet Vernon Schwarte from Thunder Roads Iowa Magazine. Vernon and his wife Tina (TT) have owned the magazine for a litle over a year now, and they've even published a few of my rantings in the "From the Woman's Seat" column. They've done a great job keeping the publication focused on Iowa.

And, just this weekend we took the opportunity of slightly lower temperatures (upper 80's, heat index 102! LOL) to ride up to Big Barn Harley Davidson to meet Garry & Shirley and see a traveling exhibit related to the Viet Nam Veterans  Memorial in Washington, DC. (My husband Steve, who is a few years older than me, served in the Marine Corps from 1967-71, including several months "in country" near the demilitarized zone separating North and South Viet Nam.) This traveling memorial was developed by the Vietnam Veterans' Memorial Fund. It was particularly interesting – and moving – to see some of the items that have been left over the years as mementos at the Wall.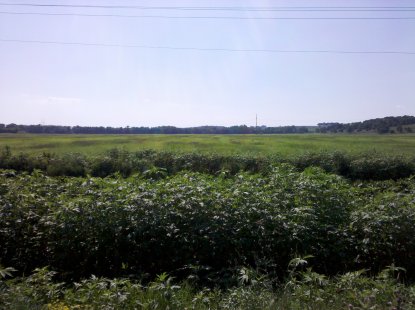 Followed that up with a very nice ride over to Newton along County Road F48 (one of my favorites) – where we saw that the heat has obviously been very good for Iowa's favorite crops: fields were a beautiful sea of deep green, the corn topped with golden tassels and the soybean plants full and bushy. Unlike the previous few weeks, riding was a pleasure – it was hot sitting still, but very pleasant once you got moving along. I got sun-burned to a crisp, having once again failed to use any kind of sunscreen. (I'm smart like that.)
We enjoyed our lunch at PJ's Deli (Steve said the "Turkey Crisp" was really good!) then headed home back to the east where we turned south down Highway 117 at Colfax and into Prairie City, taking the four-lane 163 home through Pleasant Hill.
Now we are at month's end already, and the Sturgis Rally is coming up in a week. If you're headed that way – ride safe, have a blast, and say hello to the giant nipple for me!