Finally a little bike time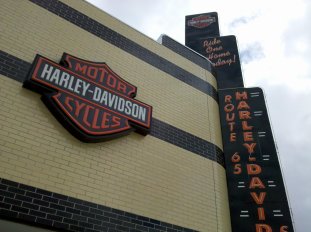 On the one hand, I'm so grateful to finally have a job that I swear I am not complaining. On the other hand, having a job is really cutting into my riding time! Haven't got to do too much on the bike lately, as I am back to waiting for good-weather weekends.
Last week, having watched two glorious blue-sky days go by outside my office window, I did have the bright idea of taking an evening dinner ride, and that was really nice – we rode our old favorite "up around the Lake" loop around Saylorville and then stopped for dinner at our friend's bar/restaurant, Sambetti's, for dinner. The lake level is actually pretty low right now compared to previous years, but the colors are still beautiful coming over the Mile Long Bridge – steel blue water, golden bluffs, and lush green trees.
The whole weekend turned off great weather-wise… Saturday was hot and humid, feeling like it would rain any minute, but not windy. It was the type of day where you felt over-heated standing still, but the moist air was cool once you got moving. I left Steve at home working on his Corvair and took a short ride down to Route 65 Harley-Davidson for their annual Spring Open House, where I visited with Cassie, Marla and Cuddles and then met up with Garry and Shirley.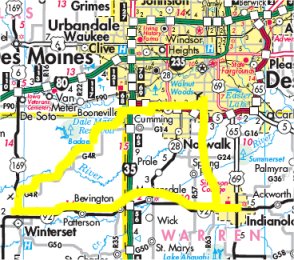 We didn't stay too long (but sure enjoyed our lunch, didn't we?? "HA! YEAH, COPS DO THAT!!" bleated our uncomfortably loud tablemate) but took a nice scenic ride west to Winterset on Highway 92, then north to County Road G4R. Ninety-two is quite nice – one of my favorites of the higher-traffic two-lanes in Iowa – but G4R alternates between lovely smooth asphalt and wretched crumbling cement. Still, it has loads of beautiful curves and well-kept homes lining the way back toward Des Moines via Norwalk. (Later, we realized we had forgotten – !! – the "first Saturday" lunch at Lacona… SO sorry, Erica! We will catch you again before summer's over!)
Sunday was another hot (but beautiful) day, and since we always get a late start on Sundays anyway (what with our traditional brunch and all…), Steve decided to take the afternoon off from the Corvair and go for a ride with me. More on that one later, it gets its own write-up if only to keep this post from being 2,000 words!
What have you been up to? Leave me a comment and tell me the most fun (on the bike – LOL) you've had so far this year!