Mustang introduces LowDown seat
You're not expected to remember this, but a long time ago I ran the Picky Bitch with a Mustang solo seat. The rider's backrest was a life-saver on the 2006 ride to Sturgis as well as the Estrogen Ride, but the trade-off was that the seat sat me an inch or so higher on the bike, and I was no longer flat-footed.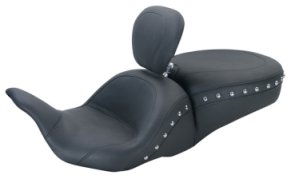 It looks like Mustang is beginning to address this problem with the new "Lowdown" seat, which sits a full 1.5 inches lower and has a narrower "nose." This is a great feature for comfort and safety – I can tell you my Sportster solo seat would have been absolutely perfect if it had been a skosh lower. (Just look at all that down-in goodness!) The Lowdown is currently available in plain or studded finishes, with or without driver backrest, for the Harley Davidson touring line.
I asked the folks at Mustang what their plans were for the Lowdown – they told me they've only been offering it for a couple months and that there are currently no plans to expand it to the Sportster or other HD lines. (But, guys, you should totally think about it! I would've killed for this seat … well not literally, but, you know… when I had my 883!)
Hat tip to the venerable Cyril Huze Blog for alerting me to this new development! Photo of Lowdown seat snagged from Mustang website.