Sh*t hits the fan for local bike night event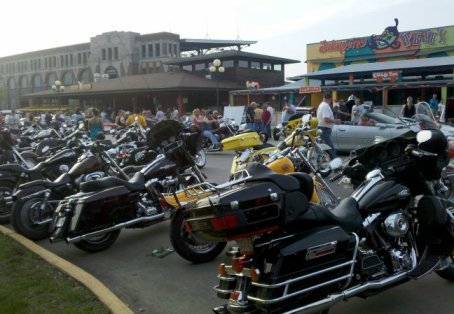 Big debate going on here locally this week – what started out as a great new free "bike night" event in Des Moines (including classic cars/hot rods) is embroiled in a PR controversy because they have added a mandatory $5 fee to be collected at the gate that is supposed to be exchangeable for food or beverages on-site.
The explanation from organizers is that this is not a fee to attend the event – it's just a way to ensure that everyone buys something from the concession stands, which "keeps the event free."
But, the thing is – the $5 is mandatory for everyone over the age of 12. So, you can't attend the "free" event unless you pay $5 at the gate for food/drinks you may or may not want. To me, that makes the event no longer free, because you can't attend without paying. (Unless you are 12 and under – but, last time I checked, that age group is not really able to bring bikes and cars to a show… well maybe Big Wheels and Barbie Jeeps, but I digress…)
Overall I think the organizers of this event would've been far better off just admitting that they're implementing a cover charge, and let the chips fall where they may. Trying to set it up (or "spin it," for you cynics) as a "mandatory coupon" just doesn't work.
Another problem for this event: parking was limited last week to just a few streets on our very large state fairgrounds, where before it had been more broadly spread out. Now, the bikes are forced to park 3 and 4 columns deep along one main street with the only overflow being a single column down a side street. If your bike is parked on that main street along the curb, you're there for the duration whether you want to be or not because there's no way to get out with all the bikes parked in front of you.
Between this and the spin over the cover charge issue, we probably won't go back to the event any time soon. And that's too bad, because it was a neat opportunity to see lots of great vehicles!
What are your thoughts? Do you pay to attend "bike night" events? Do you purchase food and drink from the vendors that are present? If you're local, what are your plans for attending this event? (If you represent this event, my facts – and my opinion – are based on what I've read on your Facebook page and on your printed material. Do tell me if I've mis-represented your case!)