Ride to eat… and shop!
I'm trying to remember what year it was that my friend Shirley started riding (I think she actually started in the 1970's, but then she RE-started maybe 7 or 8 years ago.) ANYWAY, point being that in all the time I've been riding, we've somehow managed to never take a ride together, just the two of us. So this weekend, since Steve wanted to work on his Corvair project and I really wanted to ride, I called Shirley to see what she was up to. Turns out Garry was at the swap meet hunting for hot rod treasures, so Shirley and I decided to take a lunch trip and be back in time to attend a "purse party" (more on that later).
Temps were to be in the upper 70's so I layered up and topped off with my new HD mesh jacket (more on THAT in a future post – short version: LOVE IT), and headed down to Carlisle to meet up. (I am always a "scenic route" kind of gal so I took some backroads to get there.) We left Shirley's house at about Noon with a plan to ride to Lacona, a small town about 40 miles to the south where we intended to snap photos for the Des Moines HOG Chapter's 2011 Scavenger Hunt. We also thought we might catch lunch somewhere.
Our route took us a short way down Highway 5 to Palmyra Road (county road S23), then south down S23 to Highway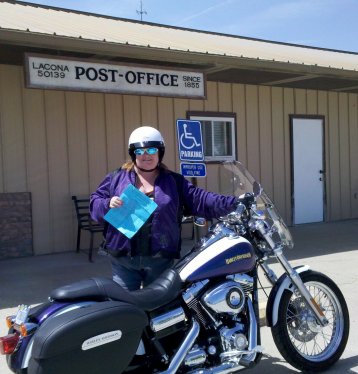 92. This is the route we usually take to Indianola Bike Night if we are stopping to pick up Garry & Shirley – it's a very pretty back road that prevents us from having to turn left with poor visibility and without traffic controls onto a major state highway.
ANYHOO – south down S23, then west on 92 to a spot just outside of Ackworth where S23 picks up again, and south again. This bit of S23 is that one I mentioned awhile back that uses the "Pavement Ends" method of way-finding. It's very scenic, but you have to pay a bit of attention to where the road curves or you could go flying off into gravel.
We arrived in Lacona around Noon-forty, and to our surprise there was a sign by the local restaurant that said, "Welcome Bikers May 7." Since we hadn't been sure we'd find any place open to eat once we got to Lacona, we were quite delighted to find that Rudy's Rendezvous (a place we'd stopped once before to ask directions) was actually open for lunch. In chatting with Erica, our server (whose dad Rudy owns the place), it turns out that Rudy's is going to be open each first Saturday throughout the summer for the "Ride to Rudy's," which basically just means "Ride to eat – we're open!"
We had a great lunch (inexpensive too), snapped a few photos in front of the restaurant ("Hey Shirley, lean against that post cowboy-style…") then headed up the hill to the Post Office where we took our identifying photos for the Scavenger Hunt.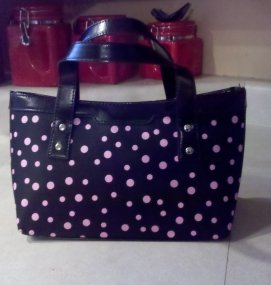 By this time we were late for the purse party (hey, we're bikers but we're biker CHICKS – we reserve the right to shop!) so we headed back up S23 toward Carlisle and Shirley's sister's house. Now we all know the love-hate relationship we have with those home parties… Pampered Chef, Tupperware, etc. … well this party was better because it was simply an "open house" – come on in and shop – which we did, and I bought this CUTE little black-with-pink-polka-dots number which I think, at $15, was the bargain of the day. LOVE IT!!
After the purse party it was back to Shirley's for a stop-and-chat, then the quick ride home. Thoroughly enjoyed the day, and I hope we can get a group together for the next "Ride to Rudy's" on June 4!