Kansas House passes "dead red" stoplight bill for motorcyclists, bicyclists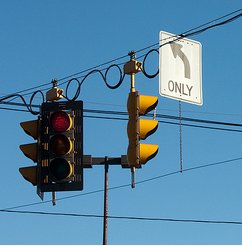 Have you ever been on the bike, sitting at a red light and anticipating the green, only to sit there… and sit there… and sit there… for minutes on end, realizing that the light is on a sensor and hasn't detected you? And worse yet, it's obvious no one's coming in either opposing direction… but you're stuck because the only option seems to be to run the light?
Have you ever gone ahead and run the light?
In today's culture and political climate, you're more likely to see a personal liberty taken away than restored. That's why I'm astounded that the Kansas House of Representatives actually approved a measure recently allowing motorcyclists, at their personal discretion, to run "dead red" stoplights.
That's right, the government decided that motorcyclists were capable of making a decision affecting their own safety.
Here's a link to the story as run at KMBC, the local ABC news affiliate in Kansas City.
Even more surprising to me is that the state of Missouri has had this provision in place since 2009. Perhaps other states already do as well.
Of course, with such a provision comes the responsibility to use it the way it's intended. It would not, in my opinion, give bikers the right to treat the light as a stop sign ("stop, look, and go if it's safe"). It would, however, allow you proceed through an intersection where you've been waiting and it has become obvious that the light's sensor doesn't detect you.
I would certainly support such a measure were it proposed in the legislative bodies here in my home state, and I'll be watching with interest to see what happens to the measure in Kansas going forward.
Stoplight photo above is from the Flickr stream of Kris_who.