Farewell to the pink Fulmer helmet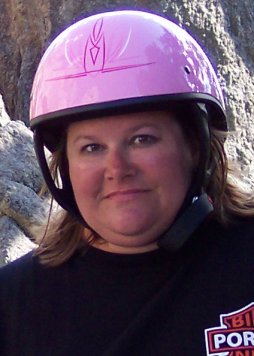 Last spring I said farewell to my beloved partner-in-crime, the Picky Bitch. Well, this riding season I will be bidding adieu to another longtime riding companion – my pink Fulmer helmet, which I acquired in… hm, I think early 2006.
So why'd I replace such a great piece of equipment? Well, for one thing the Motorcycle Safety Foundation suggests that a helmet's protective qualities may deteriorate over time. They also recommend replacing your helmet every few years (or immediately if it has been dropped or damaged) because new materials are always in development that improve the weight and functionality. I also happened to receive a beautiful new pearl-white helmet as a Christmas gift.
I'll introduce you to the new lid in a future post, but right this second I wanted to just acknowledge that the pink helmet has served me well: It protected my noggin when I dumped the bike in the mud over in Guthrie County one day… it served as a homing beacon for friends riding behind me through the chrome clot of Hulett, Wyoming on No Panties Wednesday… and on at least one occasion, it was the way someone at a rally recognized me ("You ride with a pink helmet, right?").
With the arrival of the new helmet, the question arises of what to do with the pink one. I'm sentimental enough that I hate to throw it away, but it really wouldn't be any good to someone else given its age. Maybe I'll hang it on the wall in our basement bar as a memento. Or maybe hang it upside down on the porch with a philodendron in it. Anyway, suffice to say it's seen more than a few great adventures.